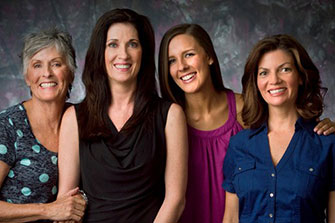 Special focus areas for women's care include:
Heart Disease
In the U.S., more women die of cardiovascular disease than from the next four causes of death combined, including all forms of cancer. Learn more about women and heart disease.
Bone Health Program
If you take care of your bones, they'll help take care of you. HonorHealth's Bone Health Program help women do just that with screening, diagnostic testing, exercise classes and support groups. They're intended to help improve the quality of life for those dealing with osteopenia or osteoporosis.
What is osteoporosis?
Low bone density can occur at any age and can eventually lead to osteoporosis. With this disease, bones become fragile and more likely to break. If not prevented or if left untreated, osteoporosis can progress painlessly until a bone breaks. These broken bones occur typically in the hip, spine and wrist. It's important to take action now to determine your risk of developing osteoporosis.
Risk assessment: You can find out your risk for osteoporosis during a 20-minute session that includes a consultation with a nurse practitioner on bone basics, nutrition and exercise for healthy bone maintenance, assessment of your osteoporosis risk specific to gender and age, and supplement and medication education. To schedule your screening, call 623-580-5800.
Exercise for healthy bones: A living tissue, bone responds to exercise by becoming stronger. If your bones are not called upon to work, such as during physical activity, they don't become strong. A lack of exercise, particularly as you get older, may contribute to lower bone mass.
HonorHealth offers osteopilates classes that focus on improving bone density, muscle mass, flexibility and balance.
Osteopilates classes are held Tuesdays and Thursdays, 9:15 a.m. - 9:45 a.m.
Cardiac Rehab, 9201 E. Mountain View Road, Suite 150, Scottsdale.
Cost of class is included in membership fee.
Call 480-323-4600 for membership fees and information.
Gynecological Oncology
HonorHealth's gynecologic oncologists are specialty trained to care for women with cancers, such as uterine, cervical and ovarian. Surgery is often the first step in treatment, and we offer the very latest in surgical procedures, many of which can be performed using the daVinci robot.
HonorHealth's Virginia G. Piper Cancer Center provides innovative treatment options for all types of cancers, including surgery, radiation and chemotherapy. Our experts will help you understand the available treatments and design a plan that's right for you.
We're here to answer your questions and help you navigate through the cancer journey. Armed with knowledge, you can make the decision that's best for you, and most importantly, focus on your healing.
For a referral to an HonorHealth gynecology oncologist, please click here
Pelvic Pain
It's estimated that 30 percent of women will experience chronic pelvic pain in their lifetime. HonorHealth offers outpatient treatment for pelvic pain to help women regain their feeling of wellness and improve their quality of life.
Causes: They include childbirth, disease processes and musculoskeletal conditions. HonorHealth has physical therapists who focus specifically on women's health and pelvic disorders. Physical therapy can treat all of the following conditions and more:
Pelvic floor dysfunction:
Pelvic pain.
Urinary and fecal incontinence.
Bladder prolapse/cystocele.
Interstitial cystitis.
Prostatitis-chronic pain syndrome.
Sexual dysfunction/dyspareunia.
Pregnancy and postpartum musculoskeletal complications: Lumbar/sacroiliac/coccyx pain.
Pelvic disorders and pelvic pain treatment:
Therapeutic exercise of the core, hips and pelvic floor.
Use of manual therapy to induce relaxation, improve alignment, facilitate flexibility and reduce adhesions.
Treatment for pain management.
For more information, please call 480-323-3465.
You might be also interested in our Maternity Services.