Being pregnant may be the happiest time of your life. Or you may be dealing with unexpected health concerns.
However you're feeling, HonorHealth doctors, nurses and ultrasound techs will deliver maternity services centered on your individual needs and preferences.
Maternity services are offered at our HonorHealth Family Birthing Suites - Osborn and HonorHealth Family Birthing Center - Shea locations.
Keeping you Informed
To help you learn as much as possible about your pregnancy and life with your baby, HonorHealth offers more than a dozen different maternity classes covering subjects such as Promoting Your Healthy Pregnancy, Preparing for Childbirth, Training Camp for New Dads, and many more.
Sign up for birthing classes online.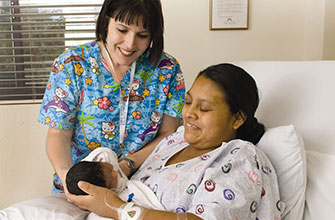 Even if you don't have a baby bump yet, you may want to sign up for a tour of our maternity facilities. Available to expectant mothers and their families, a tour will help you learn all about our birthing settings and services. We want to make sure this special time for your family is all that you want it to be.
HonorHealth's highly trained health care team and wide range of services support a variety of birthing scenarios:
You may want as natural a birthing plan as possible.
You may want the availability of interventional procedures such as epidural anesthesia to help you through delivery.
You may require highly specialized care for complex situations.
HonorHealth's maternity services are here to assist each and every expectant family with their needs.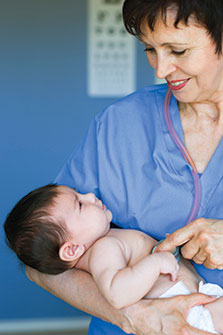 Your Baby has Arrived — Now What?
Once your baby is born, you may have many questions about caring for your new arrival and for your post-pregnancy self. HonorHealth offers a variety of mother-baby education resources, including online information about post-partum depression and bathing your newborn. We also offer breastfeeding support and maternity support groups. Whatever your need may be, we're here to provide you with support, information and expertise.
Pregnancy can be joyful. It can also be stressful. More than anything, you need to be able to count on care and support for all the aspects of your pregnancy and the transition of welcoming a new child into the family. At HonorHealth, you can expect care centered on you everywhere you turn.
Print out our Maternity Services brochure (PDF).
You might be also interested in our Women's Health Services as well as our cash pay options for select maternity services..