Preparing to have your baby
As you await your baby's arrival, it's time to take prenatal classes, pre-register at the hospital and prepare your hospital bag checklist.
Childbirth classes
To help you learn as much as possible about your pregnancy and life with your baby, HonorHealth provides more than a dozen maternity and childbirth classes. To register, please call 623-580-5800. All classes are subject to a minimum registration and availability. Because curriculum is intended for an adult audience, no children are allowed in prenatal classes.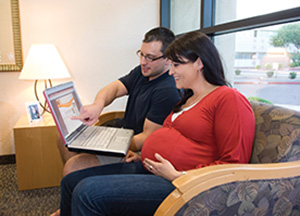 Tour Scottsdale Osborn and Scottsdale Shea birthing centers
To decide where to have your baby, take a pre-natal tour . Scottsdale Osborn and Scottsdale Shea birthing centers offer free tours for pregnant mothers and their families. To learn more and register, call 623-580-5800.
Pre-register
We've simplified preparing for your hospital stay as much as possible. For your convenience, you can pre-register by downloading the required pre-registration form (PDF). To get started, email your completed pre-registration form and a clear front and back copy of your insurance card(s) to the OB admitting team at one of the two locations below:
After hospital staff receives your pre-registration, you'll get an email confirmation. A staff member will contact you to finalize your pre-registration and go over information provided by your insurance company. It's a good idea to review your insurance coverage and benefit information beforehand so you understand what your plan coverage includes. In addition, it's important to contact your insurance company to see how to add your baby to your insurance policy as quickly as possible after you deliver.
For questions or additional ways to pre-register, contact:
What to pack in your hospital bag
Hmm, what to pack for the hospital? Make it easy — take a look at this handy hospital bag checklist (PDF).