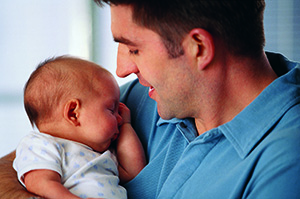 As you transition to parenthood, you may have questions and need some support.
You can learn more about what to expect postpartum, including life with your newborn, motherhood and parenthood through HonorHealth's mother/baby classes and resources. These include:
Moms on the Move (M.O.M.)
Moms on the Move (M.O.M.): Bring your newborn baby and meet other new moms as you learn from their experiences and gain information that will help your transition to parenthood. For more information, call 480-323-3878 (registration is not required).
Scottsdale Osborn: Meets every Wednesday at 1 p.m.
Scottsdale Shea: Meets every Tuesday at 11 a.m.
Breastfeeding support
Breastfeeding support: The first few days after you've left the hospital can be challenging as you and your baby learn to work as a team on breastfeeding. If you need additional support, the Center for Breastfeeding Support can help and service is available as long as you need it. You can also rent a breast pump or purchase breastfeeding supplies at the HonorHealth Scottsdale Shea Medical Center or HonorHealth Scottsdale Osborn Medical Center.
Need quick answers?
What's the best way to take your baby's temperature? Is your baby jaundiced? Find the answers to these and other questions you have about your baby's health. You'll also be able to find answers to the questions you have about your own wellness as a new mom.
Other helpful resources
Women's health services - HonorHealth can be your lifelong partner for women's health services. Learn more about women's health, including heart disease, bone health, gynecology and pelvic pain. You also can look into HonorHealth's exercise programs.
Pediatrics - As you learn about life with a newborn, you'll soon find that parenthood is filled with questions and continual learning. That's where a quality pediatric partner like HonorHealth comes in handy. You'll find dedicated pediatric emergency rooms, child life specialists to help ease a child's fears in the hospital, and personalized pediatric care in multiple specialties.
Billing - If you have billing-related questions once you're home, find resources on HonorHealth's hospital billing page. You can pay your bill, learn about HonorHealth's financial assistance policy and make an inquiry about your statement.