While you're in the hospital having your baby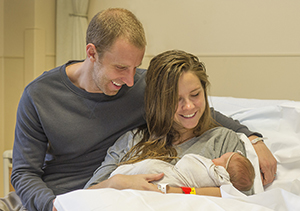 After months of dreaming and preparing, it's finally time to bring your baby into the world.
When you arrive at your HonorHealth hospital in labor, check in at the OB unit where you'll be assessed in a triage room. If you're in active labor, you'll be shown to a birthing suite where you'll continue to labor, deliver and recover. Once you've delivered, you'll move to a postpartum room. The typical hospital stay is 24-48 hours.
If you're arriving for a scheduled cesarean section, check in at the OB unit. The typical hospital stay for this type of delivery is 72-96 hours.
Greater bonding with rooming in
After delivery, your baby will room in with you. This means you'll be together, cared for by a nurse who will attend to the needs of both of you. Rooming in allows you, your baby and family members to adjust to life as a family before heading home. Studies also show rooming in allows for greater bonding opportunities.
Please note that while in the hospital, your baby will have an umbilical cord security sensor, as well as a wrist ID band that matches that of each parent. All OB and ancillary staff members will have a pink identification badge; this lets you know who is authorized to have contact with your child. If you have questions, please don't hesitate to ask.
Newborn screenings
While in the hospital, your baby will have the following screenings:
Congenital birth defects
Hearing
Jaundice
Metabolic disorders
Lactation consultants provide breastfeeding tips
Breastfeeding does not always come naturally. HonorHealth's board-certified lactation consultants can provide plenty of in-hospital breastfeeding tips, as well as support and problem-solving. A consultation with an HonorHealth lactation expert can ease your uncertainty and help your baby feed more effectively.
Open visiting hours
HonorHealth supports a family-centered care model, meaning your newborn's family members and siblings are encouraged to visit at any time. Other guests may visit at the mother's discretion. Please note: HonorHealth asks that guests not feeling well refrain from visiting.
Birth certificate and Social Security number
Here's what you need to do to get two important documents—a certified copy of your baby's birth certificate and a Social Security number — that your child will use throughout his/her life.
After your baby is born, the hospital's Medical Records department will:
Review and verify information with you
Send the completed birth registration information to the State of Arizona vital records department seven days after the birth
Once you're home, contact Maricopa County to obtain a certified copy of your child's birth certificate. This is a very important step; you will not automatically receive a copy – it must be requested.
If you choose to apply for a Social Security number, a card will be mailed to you within a few months by the Social Security Administration.
If you have questions about registering a birth, please contact the Medical Records department at 480-882-4040.
Other to-do items for your hospital stay
First Day Photo: You can capture that first precious day with professional newborn photography in the comfort of your room. Family members also can be part of the photo shoot.
If you're at Scottsdale Shea Medical Center, you'll receive a visit to see if you'd like a photo shoot
If you're at Sonoran Crossing Medical Center, let your nurse know you'd like newborn photos
Gift Shop: Family members and friends can find flowers and unique gift items in the gift shop. All proceeds go to support HonorHealth patient care initiatives.