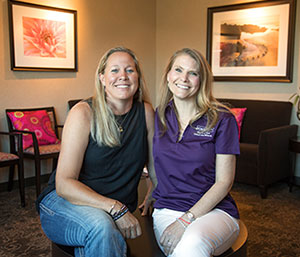 Before July 2016, Tammi Kastelic was just like many other busy stay-at-home moms. She took care of her husband and their two sons —10-year-old Tyler and 14-year-old Jacob — their home and their six rescue dogs.
Their day-to-day life changed the day she discovered a lump in her breast. One week later, she got the diagnosis she had been dreading: breast cancer. She learned that the lobular and ductal in situ cancer she had was uncommon for a woman her age — 44.
Life as Tammi and her family knew it came screeching to a halt — at least temporarily.
"It's the hardest time in your life, hands down," she says.
After she got over the initial shock, she readied herself for the fight of her life. Tammi turned to the HonorHealth Breast Health and Research Center help her on the path to healing. There she met Alisa Domb, RN, her patient care navigator.
"I meet with patients after their cancer diagnosis, and I walk them through the entire journey, from diagnosis to recovery and beyond," says Alisa. "Getting a diagnosis is overwhelming, and patients don't know where to start. Having a patient nurse advocate helps relieve them of anxiety. It gives them a friend on the inside who can help answer all their questions."
Tammi welcomed the support. "When I first met Alisa right after an MRI, it had been a really rough day for me. Alisa said, 'Hi, I'm here. Let's sit and talk,'" Tammi says. "She took me under her wing. She had so much compassion, and she never made me feel like a burden."
Treatment was difficult at times for this lifelong type 1 diabetic. She suffered burns from radiation, leaving her tired and weak with high blood sugar that has been challenging to control.
During the difficult days of Tammi's bilateral mastectomy and radiation treatments, she and her family were able to get help from a wide range of programs available through the HonorHealth Virginia G. Piper Cancer Care Network:
This support has been life-changing for Tammi, who has completed her treatment and will soon have reconstruction surgery.
She has a message for donors whose contributions have made it possible for the specialists and staff in the HonorHealth Virginia G. Piper Cancer Care Network to make a cancer diagnosis and treatment a little more bearable for patients and their families.
"To those who gave their support, I want to thank you for all you have done," says Tammi. "I never could have gotten through this without you."
If you'd like to help patients like Tammi, you can make a contribution to HonorHealth patient programs and services by donating online.