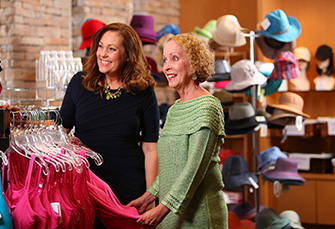 If you're going through cancer treatment, you want to look and feel your best as you progress through healing and recovery.
Tina's Treasures is a boutique created with you in mind. Specially designed to meet the needs of cancer patients, survivors and their families, Tina's Treasures can help you with bra fittings, wigs, breast prosthesis or custom camisoles. The shop also carries a broad selection of other items.
Tina's Treasures includes a staff of board-certified prosthetic and wig fitters. Many are cancer survivors themselves. Whether you're newly diagnosed, currently in treatment or a longtime survivor, Tina's Treasures offers personalized services in a private, comforting and positive environment.
Make an appointment
Appointments for a breast prosthesis, bra fitting or wig fitting are recommended, allowing you to get the team's full attention without waiting. The staff at Tina's Treasures also can verify your prescription and insurance information, minimizing your wait time when you come in for your consultation.
Tina's Treasures Boutique
Virginia G. Piper Cancer Center
10460 N. 92nd St., Suite 100, Scottsdale, AZ 85258
Hours: 9:00 a.m. - 5:00 p.m. Monday - Friday
Call 480-323-1990.
The boutique is named in honor of Tina Johnson, a cancer survivor. She dreamed of a special shop where those facing cancer could find the help they need on their journey.
Tina's Treasures Facing Forward Program
Learn how to manage changes to your body, including skin and hair.
Receive hand-on skin care, make-up applications and tips on wearing wigs, hats and scarves.
Discover the resources available to you through the Virginia G. Piper Cancer Care Network.
Women undergoing cancer treatment may attend one complementary session.
Classes take place the second Tuesday of each month from 4:30 p.m. - 6:30 p.m.