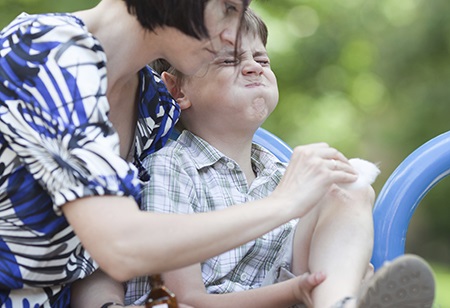 Because you never know when a medical emergency might strike, it's important to have a first aid instruction book and well-stocked first aid kit at the ready.
Sarahjeet Singh, MD, an HonorHealth primary care physician in Tempe, suggests the following 10 items for your first aid kit:
Adhesive bandages in all sizes for cuts and scrapes that result in a little bit of bleeding.
Gauze in all sizes for cuts that produce more blood or that won't stop bleeding.
Compression bandages (Ace bandages) to securely apply pressure to a deep cut until an ambulance arrives or you're able to get to the doctor/hospital for stitches.
Antibiotic ointment to kill bacteria at the site of a cut (a little goes a long way).
Hydrogen peroxide for wounds that may be dirty (for example, falling in dirt or rocks, stepping on glass, etc.).
Chewable aspirin for general pain relief or when exhibiting signs of heart attack.
Benadryl for allergic reactions, including breathing difficulty or breaking out in hives.
Hydrocortisone steroid cream to soothe a rash.
Non-latex gloves to prevent the spread of infection when helping a stranger.
Scissors to cut through clothing, fabric, bandages, etc.
When to visit the ER
First aid kits not only can give you the tools to treat many minor injuries, they can help bridge the gap between when an injury occurs and professional medical help is available, Dr. Singh says.
Some conditions that warrant immediate care in the emergency room include:
Broken bones or dislocated joints.
Chest pain with dizziness, nausea, sweating, shortness of breath, or pain radiating to the neck, jaw or arm.
Sudden confusion or loss of consciousness.
Fever with a stiff neck (could signal meningitis, particularly if you've recently traveled abroad).
Intestinal bleeding.
Loss of vision.
Poisoning or suspected drug/prescription medication overdose.
Seizure.
Serious burns or cuts.
Severe abdominal pain.
Severe allergic reaction (intense swelling, hives, shortness of breath).
Severe heart palpitations.
Severe infections.
Stroke symptoms (dizziness, weakness on one side, slurred speech, or sudden onset of paralysis).
Traumatic injury to the head, neck or abdomen.
Venomous snake bites or insect stings.
When to visit urgent care at HonorHealth
If you need same-day care for a non-life-threatening condition, with no appointment necessary, consider urgent care at HonorHealth. Common ailments or injuries that can be treated at Urgent Care include: allergies, asthma, back pain, cold and flu, cough or bronchitis, minor cuts and burns, earaches, headaches, minor injuries, school and sports physicals, and sinus and urinary tract infections. Urgent care offers:
A walk-in appointment and a typically short wait time.
A reliable, cost-effective alternative to the emergency room.