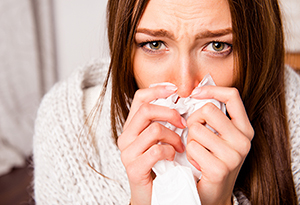 So, you've heard it all before when it comes to the flu? Not so fast: You might be surprised by these details about influenza. Matthew Anderson, MD, a physician in the HonorHealth Medical Group in the Phoenix area, offers this important info about the flu:
Influenza symptoms
Fever, usually high.
Headache.
Extreme tiredness.
Dry cough.
Sore throat.
Runny or stuffy nose.
Muscle aches.
Complications from the flu can lead to hospitalization and even death. Influenza can worsen chronic medical conditions such as asthma, diabetes or heart disease.
The New England Journal of Medicine reported that the influenza vaccine is less effective at preventing influenza this year. You should still get your yearly influenza vaccine. Receiving your vaccine will help reduce the severity and/or length of the illness.
If you're healthy and have no chronic medical conditions, you may suffer from complications such as pneumonia, dehydration, ear or sinus infections that require additional medical treatment.
Flu statistics for Arizona
More than 4,000 people in Arizona land in the hospital from influenza complications such as pneumonia.
Every year, about 700 people in Arizona die from influenza.
The dominant influenza strain this year is H3N3, Type A.
Influenza is very contagious
If you're sick, stay home so you don't give it to coworkers and schoolmates. Wash your hands frequently, using soap and water or hand sanitizer. Cough and sneeze into your sleeve so that droplets don't infect those nearby.
When to see a doctor
See if a doctor if you:
Have a high fever (more than 101° F) lasting more than three to four days.
Are so sick that you or your family cannot take care of you at home.
Are extremely dizzy.
Aren't able to take fluids for 24 hours (adult).
Have an infant who's not taking fluids and is starting to get dehydrated (not wetting diapers).
"Your doctor may start antiviral medicine within 48 hours of the onset of influenza symptoms. This is especially important if you're at high risk for influenza complications. That encompasses people with heart or lung problems or a weakened immune system, those over 65 years old, and infants," Dr. Anderson said.
"Most physicians will review your symptoms and listen to your lungs to make a diagnosis of influenza. Physicians will also use nasal swabs to rapidly diagnosis influenza in a matter of minutes," he advised.