Dr. Swain is a bariatric surgeon and the medical director of the HonorHealth Bariatric Center.
Where were you born?
North Platte, Neb.
Where did you grow up?
We moved a lot. My dad was a weatherman for the National Weather Service. I lived in eight states before I got to high school. Then we lived in Kansas.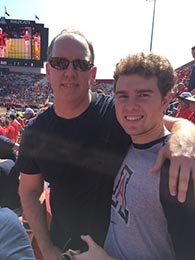 What did you want to be when you were a kid?
A basketball star. I was good until people could jump higher than me — about the 10th grade. I won the state title in tennis in the 12th grade. Much like basketball, being a surgeon is a team event. Whether in the clinic or the operating room, each person works together to give great care.
What's your favorite movie?
"Matrix." I love the concept that perception can be digitized.
What's your favorite place on earth? Why?
Austria. I used to train surgeons in laparoscopic bariatric surgery at the University of Innsbruck. It's quiet, and I love it for the politeness of its people and its beauty. It's totally relaxing there.
Are you a dog person or a cat person?
Oh, a cat person, although I don't have a cat right now. Spooky passed away from cancer a few months ago, and I'm not ready for my next cat yet.
What do you love to do in your free time?
I love video games; I have to admit it. My favorite is Call of Duty. My boys and I play together, but even if we're in different rooms of the house or at college, we are still together. Joshua is 18 and Zachary is 20.
Why did you choose Arizona to be a surgeon?
I did my residency at the Mayo Clinic in 1995, but I did my surgeries at HonorHealth Scottsdale Shea Medical Center as a resident. Some of the same nurses I worked with then are still at Shea. My family and I lived in Jacksonville, Fla., for my fellowship, and in Rochester, Minn., but they didn't like Minnesota. So we moved back to Arizona; I've been with HonorHealth since 2011.
Why did you decide to become a bariatric surgeon?
Because it's a challenge to reconstruct the stomach and intestine laparoscopically. Only about 2 percent of bariatrics surgeries were done using laparoscopy in 2000. Now it is standard of care.
Plus, bariatric surgery is such a positive practice. The benefits for the patient far outweigh the risks. It's so fun to see how my patients change and to have that kind of impact on people's lives. I can't imagine another specialty being as good.
Do you have relatives with weight issues?
My mom. And I've struggled with my weight. I have empathy for the personal struggles of excess weight and weight loss.
How does your patients' relationship with food differ from individuals with a normal weight?
It's a co-dependency. People in general use food to celebrate; they also use it when they're sad as a source of comfort. Food's a central part of life. It's a cultural thing.
Some people can gain weight more easily than others because they're more sensitive to the hormones that make you want to eat. That contributes to the metabolic aspect of weight gain.
Some patients have a history of addiction and sexual abuse and turn to food. Patients can easily substitute one addiction for another — alcohol, sex, exercise — even knitting!
Why do you do bariatric research, and what do you enjoy about it?
I conduct a lot of research at the HonorHealth Research Institute — on bariatric devices, ways to slow down stomach emptying so you feel fuller longer, ways to decrease ghrelin levels. Ghrelin is the hormone that increases appetite. There's more than just surgery that can help a patient lose weight. I'm on the forefront of these new technologies.
Because obesity affects every aspect of your life — from fertility to heart disease, from reflux disease to sleep apnea — there's no shortage of things to study.
The beauty of weight loss is that it makes everything in your body better. The inflammatory process caused by your body attacking fat cells and the cells around them fades with weight loss. People feel so much better as they lose a lot of weight after surgery.
If you hadn't become a bariatric surgeon, what would you have been?
The bass player for Metallica.
Denise is a bariatric nurse practitioner.
Where did you grow up?
Mostly in Columbus where the skies are mostly gray.
What did you want to be when you were a kid?
A fashion designer. Then I figured out I would never be famous at it. Doing art therapy in a nursing home led me into medicine.
What was the best vacation you ever took?
Belize. We stayed in an ecolodge that was pretty primitive. You had to walk on a plank in the rainforest to get to the door, and at night, you'd be surrounded by what looked like thousands of glistening diamonds in the grass. It was beautiful, but I realized later that they were spider eyes (scream)! The ocean was stunning.
Are you a dog person or a cat person?
Both. I have one of each — a mini goldendoodle named Willow and a cat named Olive. We also have a desert tortoise. And my husband, Scott, has an African king frog. I don't go near it.
What do you love to do in your spare time?
Hike. Shaw Butte's my favorite hike. During the morning hours it's not crowded and is very peaceful. A lot of people choose not to hike the entire mountain so it's just you and nature.
If you hadn't become a nurse practitioner, what would you have been?
Something that incorporates nature and being outside. I love being outside because it's so peaceful and Arizona is such a beautiful place. I believe we spend too many hours inside!
Why did you decide to specialize in bariatrics?
I had been working with a cardiology group for 14 years and kept noticing the link of heart disease to obesity. So I moved to the HonorHealth bariatric program where it's more preventive health, encouraging wellness.
What do you like most about interacting with your bariatric patients?
I really enjoy seeing people transform their lives to a healthier state. Often, patients talk about how they're able to do many things that they haven't been able to do in years.
Do you have relatives with weight issues?
My parents and grandparents have struggled with weight lost but all have been successful losing weight. I believe this impacts what I do because I have an understanding that we all struggle or have struggled to maintain a healthy weight. There's nothing easy about it; it takes great discipline and commitment. As for myself, I practice what I teach and suggest to patients.