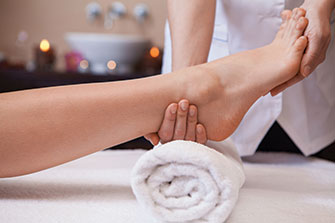 Whether you're experiencing the stress of an illness or injury or are seeking a respite from your day-to-day pressures, HonorHealth's Essential Touch Wellness Center offers you a calm place to refresh and restore yourself.
You can enjoy a range of healing therapies — from massages and pedicures to facials and body wraps, among other services — to give you a sense of serenity and rejuvenation. Our Essential Touch staff works to decrease your tension while helping you create a foundation of well-being so you can enjoy the benefits of your treatment long after it's over.
HonorHealth offers these services both to patients as in-room treatments and in our wellness center. We invite our community members, hospital staff, volunteers and physicians to pamper themselves at Essential Touch.
While you're enjoying your treatment, you're also supporting Women's & Children's Services because Essential Touch proceeds help fund these programs. Our Essential Touch staff does not accept gratuities.