Orthopedic Surgery Seminars
Register to attend and take the first step to understanding your options.
Preparing for surgery? Watch online.
Questions? Call 623-580-5800
Walking without pain is a luxury if you have foot and/or ankle issues. The ankle supports your entire body while walking, running or standing. It has the highest amount of force placed upon it with the smallest surface area of all the major weightbearing joints in the body.
It's estimated that just walking puts a force on the ankle that is two and a half times your body weight. That pressure increases with impact activities like running or exercising.
Find a foot and ankle specialist.
Even the simplest activities can make your ankle prone to injury such as a sprain or bone fracture. In addition, different types of arthritis and infections can create foot and ankle problems. Whatever type of foot or ankle pain you're dealing with, HonorHealth's doctors and surgeons will tailor treatment to your needs and goals.
Treatment Options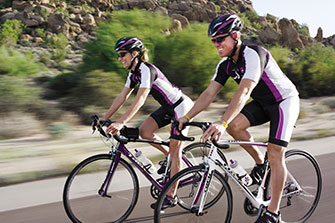 Your options depend on how much pain you're in, the source of that pain and how your foot and/or ankle are functioning.
Nonsurgical
Bracing, splints, casts and supports.
Physical therapy.
Medications and injections.
Lifestyle modifications.
Surgery and Other Treatments
Total ankle replacement: The surgeon replaces the damaged parts of the three bones that make up the ankle joint with specialized metal and plastic implants. This can provide relief from the pain while maintaining joint motion, allowing for more normal walking while preventing strain and stress to other nearby joints. Use of allografts (tissue from a donor) and ankle distraction arthroplasty techniques can preserve motion in the ankle.
Full foot and ankle reconstruction: The surgeon repairs or transfers tendons, implants a joint, removes tumors or manipulates bone through cutting, grafting or fusing.
Other conditions including complex fracture care and sports injuries.