Shoulder replacement surgery
Your shoulder pain, weakness or stiffness may be the result of an injury, overuse or arthritis, but you don't have to live with it. Shoulder replacement surgery can ease your pain and get your shoulder functioning normally again.
Shoulder replacement surgery in the U.S. dates back to the 1950s. The American Academy of Orthopedic Surgeons estimates that more than 53,000 shoulder replacements are performed in the U.S. each year. The procedure treats everything from fractures and rotator cuff injuries, to arthritis and degenerative joint diseases.
In general, shoulder replacement surgery replaces damaged parts of the shoulder with manmade components. Depending on the extent of your injury or condition, your doctor may need to replace just the head of the humerus bone called the ball (partial shoulder replacement) or replace both the ball and socket (total shoulder replacement). Shoulder revision surgery may be needed if a previous shoulder replacement fails.
The most common types of shoulder replacement surgery
Partial shoulder replacement: Sometimes called hemiarthroplasty or resurfacing, this surgery replaces the head or ball of the ball and socket joint with a metal ball. Although the native socket is not replaced, your surgeon may need to smooth and reshape the socket to accommodate the prosthetic ball. The least common shoulder replacement performed, it's often reserved for the young, active patient with arthritis or significant fracture of the upper humerus.
Anatomic total shoulder replacement: This surgical procedure replaces both worn out or diseased joint surfaces. Similar to a partial shoulder replacement, the head or ball is replaced with a metal ball. In addition, the socket is also replaced with a synthetic plastic component.
Reverse total shoulder replacement: Similar to an anatomic total shoulder replacement, both joint surfaces are replaced. However, in a reverse replacement, the positions of the ball and socket are "reversed." A metal ball is attached to the shoulder blade where the socket used to be, and a synthetic plastic socket is placed on the upper humerus where the ball used to be. This arrangement is much more stable than an anatomic shoulder and does not require the rotator cuff for stability. The deltoid muscle controls arm movement instead of the rotator cuff.
Reverse shoulder replacement may be used if you have:
A completely torn or dysfunctional rotator cuff
Severe arthritis and rotator cuff tearing
Significant bone loss on the socket side
A previous shoulder replacement that isn't working properly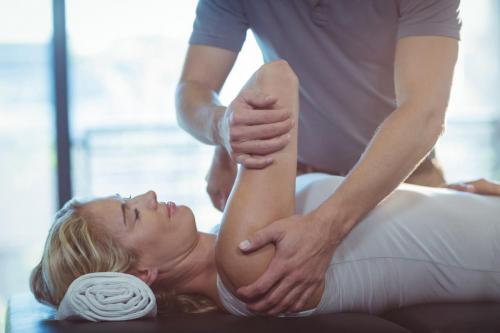 Your surgeon will work with you to determine the most appropriate replacement option for you.
Shoulder replacement recovery
After shoulder replacement surgery, most patients stay in the hospital overnight. This allows your surgeon to evaluate you and optimize your post-operative pain management strategy. A physical therapist will also visit to teach you some light exercises you'll do at home. Most patients are able to return home after a one-night stay.
Your arm will be placed in a sling that you'll wear for three to five weeks. Once the sling is removed, you should be able to use the affected arm to perform light activities of daily living like bathing, combing your hair and brushing your teeth.
About five to six weeks after surgery, physical therapy may be started to help increase strength and improve range of motion. You should be able to resume previous activities like golf, tennis and pickleball around 10 to 12 weeks after surgery. Your doctor may place restrictions on your activity based on your overall condition, the type of surgery and your recovery progress.