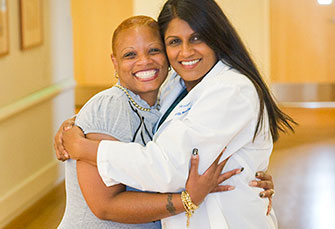 Tamikqwa keeps smiling. Why? All the women on her breast cancer care team surrounded her with compassion.
"I had heard some scary stories about cancer," Tamikqwa said. "My fears were short lived because these women cared for me. Even when they brought me bad news, it was good."
For Tamikqwa, as a woman, it meant a lot to be surrounded by other women because they understood the journey she faced with breast cancer, and they provided comfort from diagnosis through reconstructive surgery to recovery. She valued the small touches. Like a gift basket delivered at 5 a.m. on the day of her surgery, filled with encouraging words, a bathrobe and everything she'd need during recovery. Or spending time with Dr. Brenda Moorthy before her double mastectomy surgery.
"I don't need to cry, or to be 'woe is me.' Because of the women on my care team, I haven't stopped smiling," Tamikqwa said. "These ladies didn't just offer me a cup of tea and sympathy, but a new way of living that is beautiful. They make me feel like there is nothing wrong with me. They make me feel like I can do anything!"
Are you feeling overwhelmed by the uncertainties of breast cancer? Or seeking a personalized approach to your care? We can help. Contact us to benefit from a personal healthcare relationship at HonorHealth.