Breast Health and Research Center
The Breast Health and Research Center offers state-of-the-art imaging technologies, from routine mammograms to advanced procedures, in a caring, comfortable setting. The center is part of the HonorHealth Virginia G. Piper Cancer Care Network.
Breast cancer screening
The center's breast specialists focus solely on breast imaging, performing thousands of imaging procedures per year. Diagnostic tests, including mammograms, ultrasounds, biopsies and MRIs, will be scheduled promptly so that you spend less time waiting and worrying.
Because HonorHealth experts use the same set of diagnostic tools from one procedure to the next, they understand how these tools correspond with each other. For example, the specialists can see how ultrasound results correlate with a mammogram. This big-picture ability is significant when it comes to diagnosing rare forms of cancer.
If you need additional care, a patient navigator will guide you through the process by compiling medical records on your behalf, helping with physician appointments and communicating with referring physicians to coordinate the next steps in your treatment plan.
Please note: If you've received a COVID-19 vaccine, the Society of Breast Imaging recommends that you wait four to six weeks after vaccination before scheduling your mammogram. 
The right technology
At the Breast Health and Research Center, you'll find a full spectrum of breast-imaging capabilities:
Digital/3D mammography
Digital mammography is one of the leading tools for detecting breast cancer, providing clear, concise images. Women screened for breast cancer at HonorHealth's Breast Health and Research Center benefit from 3D mammography. The highly sensitive imaging technology provides individual images of thin layers of breast tissue, producing much clearer images.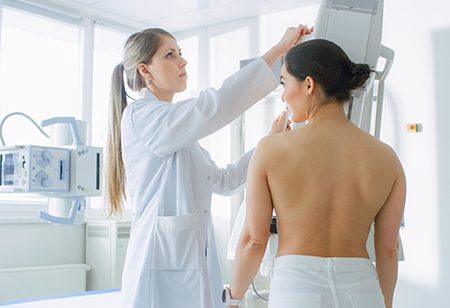 The enhanced technology raises radiologists' confidence in ruling out breast cancer, without having to call you back for more testing. Because the technology offers improved visual sensitivity, it raises the proportion of mammograms that correctly detect breast cancers.
The Breast Health and Research Center uses software that provides high-quality medical imaging and increased cancer detection with less compression time and reduced radiation exposure.
Note that not all insurance covers digital mammography. Check with your insurance company prior to seeking this service.
3D-guided breast biopsy
With 3D-guided breast biopsy, a radiologist will remove a small sample of breast tissue for analysis under a microscope. In many cases, biopsy is the only way to confirm whether a breast mass, module or calcification is malignant or benign.
Breast biopsy will answer the question: Do you need surgery to remove the mass? 3D-guided breast biopsy advantages include less radiation, faster targeting of the area, faster procedure time and the option to be seated during the biopsy.
This advanced, minimally invasive biopsy technique complements the 3D mammography system used for detecting and diagnosing breast cancer.
Other breast biopsy procedures
In all biopsy procedures, a doctor removes tissue from a breast lump using a hollow needle. The samples are sent to the lab for further examination.
The most common types of breast biopsy are:
Stereotactic biopsy: It uses 3D mammography to target and biopsy specific areas, such as calcifications, that may be only the size of three grains of salt. Calcifications are often not visible on ultrasound.
Ultrasound biopsy: MRI imaging is used as you lie face down on an MRI table. This allows the technologist to locate the specific area of the breast tissue that needs to be biopsied. The procedure is typically used for abnormalities seen on an MRI, but not felt by breast self-exam or clinical examination. These abnormalities cannot be seen with mammogram or ultrasound.
Needle aspiration: A needle aspiration may be used when you have a cyst, which can be large and uncomfortable. A needle draws out, or aspirates, the fluid. The fluid may be sent to a lab for further review. If cancer is suspected, a biopsy may be required.
MRI-guided biopsy: A needle aspiration biopsy, guided by an MRI, may be used when you have a cyst.
Breast MRI
HonorHealth's breast MRI system balances image quality, diagnostic accuracy and patient comfort.
Breast MRI:
Is used in special cases. It's not a routine procedure for breast cancer screening.
Is used to support the findings of a biopsy or workup.
Captures many cross-sectional images of the breast. A computer will compile these scans into 2-D and 3-D images.
A breast MRI can provide information when a mammogram can't if you:
Have very dense breasts
Are at a high genetic risk for breast cancer
Have a family history of breast cancer
If you're already diagnosed with breast cancer, breast MRI can help ensure that other areas of the breast are not cancerous. That information can help your doctors plan surgery appropriately.
The equipment makes MRI exams more comfortable. You lie face down, with breasts positioned against cushioned, comfortable, MRI coils that emit radiofrequencies. The system guides you in and out of the scanner feet-first. Because your head is not in the machine, you won't feel claustrophobic.
Breast ultrasound
Breast ultrasound uses sound waves to help evaluate areas of concern found in a mammogram. Ultrasound helps pinpoint where to perform needle biopsies as well.
While a mammogram might show a lump on a monitor, ultrasound will help your breast radiology specialists determine whether the lump is a solid mass or a fluid-filled, benign cyst.
Ultrasound is also helpful for finding some abnormalities not detected on mammography — especially in dense, fibrocystic breasts. These types of findings are comparatively few in number. A doctor's order is necessary for a breast ultrasound.
Print information for the Breast Health and Research Center (PDF)
Print information for the Breast Health and Research Center Spanish (PDF)