Cancer Genetic Risk Assessment
Does cancer seem to run in your family? While family history is a risk factor for developing breast cancer, only 5 to 10 percent of all breast cancer cases are hereditary, meaning that it's caused by a harmful genetic mutation passed on through a family.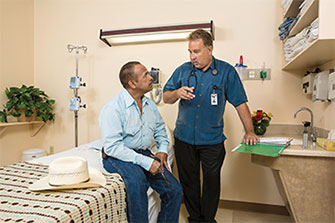 Genetic counseling can help you learn about your cancer risks, the likelihood that your family's history of breast cancer is hereditary and the benefit and limitations of genetic testing.
At the Virginia G. Piper Cancer Center, we can help put your wondering mind to rest and give you the guidance and support you need to move forward.
Through our Cancer Genetic Risk Assessment program, we can help you understand the role that heredity and genetics play in cancer development and your family's history. Our team of experts — including our medical director, certified genetic counselor and advanced practice nurse — will consult with you on genetic testing options, as well as any cancer screenings and risk-reduction options needed.
Our Cancer Genetic Risk Assessment Program:
Evaluates personal and family history.
Conducts a cancer risk analysis and calculation.
Presents the benefits, limitations and costs of genetic testing, including issues of privacy, confidentiality and discrimination.
Explores the medical and psychosocial implications of cancer risk and genetic testing.
Reviews medical management and screening options as recommended by the National Comprehensive Cancer Network or other nationally recognized organizations.
Facilitates genetic testing, when appropriate.
Interprets genetic test results within the context of personal and family history.
Provides updates to appropriate families when new genes are identified or additional testing becomes available.
Provides referrals to psychosocial counseling and support services as needed.
When to Consider
You might want to consider genetic counseling if:
Two or more close blood relatives on the same side of the family have had breast cancer.
You or your relatives had a cancer diagnosed before age 50 or had cancer in both breasts.
A family member has had more than one type of cancer, had a rare cancer or tumor or had two or more tumors in the same organ.
Ideally, genetic counseling and testing should begin with the person in the family line who developed breast cancer. Testing this person could confirm or exclude the genetic predisposition in the family and eliminate the need for further testing of other family members.
If a genetic mutation is identified, it confirms that your family history is hereditary. We'll counsel you on whether there's a need for aggressive screening and consideration of risk-reducing surgeries or other treatments. Additionally, aggressive screening and risk reduction can be targeted to other family members who carry the identified mutation.
Getting Started
Before scheduling your appointment, please complete the Family History Questionnaire (PDF). Once completed please mail or fax the questionnaire to us. The information you provide us is key in determining your risk for hereditary cancer.
Please note: Insurance coverage varies. The consultation will be determined after you have been scheduled for an appointment. If you plan to use health insurance, a referral is required for billing purposes. Please have your physician complete and return our referral form.
A financial counselor is available to help you evaluate your needs and verification of insurance coverage for services.
To schedule an appointment, please call 480-323-1231.