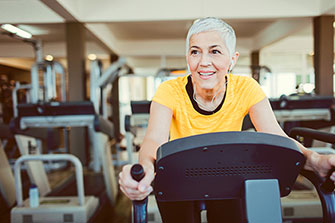 Pain management is an important part of orthopedic care and treatment. Your HonorHealth orthopedic surgeon will work with you to create an individualized plan to help manage your pain.
Your plan may include rest, massage or ice/heat therapy, over-the-counter and prescription pain medication and other complementary therapies. Physical therapy and other movement therapies may be added after your surgery. Deciding which pain management techniques are right for you depends on factors like:
Your personal health history.
Your previous experience with pain medication and other pain management therapies.
If and what type of surgical treatment you'll undergo for the orthopedic injury or condition that's causing your pain.
Your pain management plan also varies based on where you are in the treatment journey. For instance, the type of medications you may be given prior to surgery can be different from what you'll receive during your hospital stay. Your pain management plan will likely change after you've had surgery and been discharged from the hospital.
Some types of pain medication that you may be given before, during or after orthopedic surgery include:
Over-the-counter pain medications.
Narcotic pain medications.
Anti-inflammatory, epidural and/or steroid injections (injections into a vein, muscle or near a nerve in what's called a nerve block).
Skeletal muscle relaxers.
Local anesthetics.
Pain medication may be given:
By mouth (liquid or pill form).
Injection.
Intravenously (IV medication).
To prepare for surgery, your doctor may have you take medication or a combination of medications before going to the hospital. This is intended to help minimize your pain during and immediately after surgery.
Local anesthesia numbs the area being operated on. It may be administered as an injection or given by an anesthesiologist as an epidural injection or nerve block. Your anesthesiologist may also use IV medications during and immediately after surgery to lessen your pain.
Speak with your doctor prior to surgery if you have questions about your specific surgical and post-surgical pain management plan.
After surgery
Following surgery, your orthopedic surgeon and nurses will assess your pain. Your specialist will adjust your pain medication and therapies accordingly. Depending on your condition and whether you had an outpatient procedure and will be going home, or if you'll be staying the night in the hospital, you may receive medication:
At regular intervals to prevent a sudden surge of pain.
As needed, only when you request it from your nurse or other providers.
On demand, using a patient-controlled analgesia device that lets you control your pain by administering prescription medication through an IV. These devices are only used in the hospital.
It's important that you take your pain medication as prescribed. You need to ask for pain medication when pain first begins to keep it under control. Be sure to tell your doctor or nurse if you have persistent pain that won't go away despite medications and other pain therapies.
After discharge
Your pain likely won't go away immediately after surgery. In addition to some lingering pain from the condition that led to surgery, you'll have some pain or soreness from the actual surgery itself. Your doctor will create a post-surgical pain management plan to fit your needs. In addition to pain medication, your post-operative plan for pain relief may include:
Massage.
Bracing or casting.
Heat or ice therapy.
Elevation of the affected area.
Muscle relaxation techniques.
Physical therapy, whether in-home therapy or at an outpatient therapy facility.
Other movement therapies.
Side effects
Pain medications often come with side effects such as:
Dizziness.
Constipation, particularly with narcotic pain medications.
Itching.
Nausea and/or vomiting.
Drowsiness.
Urinary retention (difficulty passing urine).
It's important that you follow all medication instructions and that you heed warnings against driving, operating machinery or consuming alcohol.
Your doctor will likely begin tapering off your narcotic pain medication schedule soon after surgery.
Withdrawal symptoms are rare, but be sure to let your doctor know if you experience symptoms like:
Low energy.
Irritability or agitation.
Anxiety.
Insomnia.
Runny nose or watery eyes.
Hot or cold sweats.
Muscle aches.
Abdominal cramping or nausea, vomiting and/or diarrhea.