Orthopedic surgery: The day of
The day of your surgery is a big one for you and your family. Have a trusted family member or friend come to the hospital with you for your surgery. This person can speak on your behalf and serve as your advocate, be involved in your care and stay with you until you're ready to go home.
Arrival time and registration
Adults – Adults should arrive at the hospital or surgery center two hours before surgery unless otherwise instructed by the physician.
Minors – Children 12 and under may arrive 90 minutes before surgery or as instructed by the doctor. Minors must be accompanied by a parent or legal guardian, who is required to stay at the facility while the minor is in HonorHealth's care.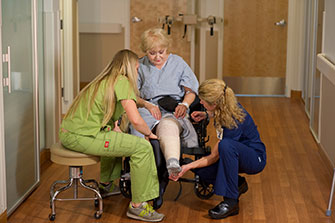 What to bring with you
Be sure to bring these items with you to the hospital:
1. Power of attorney or guardianship papers: A medical/healthcare power of attorney is required if you're unable to sign registration forms for any reason. The person named as the power of attorney must be present to sign all papers. Guardianship papers are required for minors who are accompanied by someone other than their custodial parent.
Learn more about advance directives, including:
Living will.
Medical/healthcare power of attorney.
Mental health power of attorney.
2. Bring a current list of your medications, including dosage and how often you take each. In addition, please bring a list of all known allergies. Also, bring a cane or walker labeled with your name and phone number if you have/use one.
Leave all jewelry at home, including wedding rings and other valuables like tablets and computers. You should still bring your cell phone, so you'll be able to communicate with your family and friends before and after your surgery.
3. Insurance cards, photo ID and payment: To register for surgery, you must bring your insurance cards, photo ID and payment. Once registration is complete, you'll give these items to the family member or friend accompanying you.
Note: If you are a self-pay patient or do not have an insurance precertification number, you will be required to pay all estimated surgery and inpatient fees at the time of registration. HonorHealth accepts payment via cash, cashier's check, MasterCard, Visa, American Express and Discover cards. Personal checks are not accepted.
Getting ready for surgery
Preoperative area – To get ready for surgery, you'll change into a hospital gown and cap. You'll wear these garments during surgery and recovery. Your nurse may start an IV in preparation for surgery. Women of childbearing age will be asked to provide a urine sample to test for pregnancy.

The anesthesiologist will visit with you to explain what will happen during surgery and answer any questions. Your surgeon will also stop by to answer any last-minute questions.

Operating room – In the operating room, you'll receive care from a specially trained team of surgeons, orthopedic nurses, surgical technicians, anesthesiologists and other healthcare professionals who are dedicated to caring for orthopedic patients.
Post-anesthesia care
After surgery, you'll be transported to the post-anesthesia care unit, also called the PACU or the recovery room. Depending on your surgery and the type of anesthesia you were given, you'll be in this unit for approximately 30 minutes to two hours. Here, you'll be asked to take deep breaths to expand your lungs to help prevent pneumonia. Pain and discomfort are common following surgery. Let your nurse know if you're experiencing pain so they can work with you to appropriately manage it.
If you need to stay in the recovery unit longer than two hours for any reason, HonorHealth team members will communicate with your family and keep them updated on your recovery status.
After post-anesthesia care
If your surgery is performed at an HonorHealth outpatient surgery center on a hospital campus, you'll be discharged to go home or moved to a hospital room for an overnight stay, depending on your condition. HonorHealth's Greenbaum Specialty Surgical Hospital and Piper Surgery Center both offer fully accredited overnight stay units with private patient rooms. Out of an abundance of caution, we have enhanced our visitor restrictions for our hospital facilities. Check with your nurse to find out when you may have visitors and for current guidelines. If you need to stay in the hospital, you will:
Be asked often to breathe deeply as a pneumonia prevention measure.
Have your blood pressure and vital signs checked regularly.
Probably have an IV for hydration and/or medication purposes.
Be asked about your level of discomfort or pain so your care team can take measures to minimize your pain.
Be encouraged to drink fluids as much as possible.
Your digestive system will be slow after surgery. You can help it recover by turning in your bed frequently and walking as much as possible. Walking is good for your circulation and normal body functions. Follow the instructions provided by your nurses and the therapy team members.
Going home
Your orthopedic surgeon will determine when you're ready to go home. Once hospital discharge has been ordered, a nurse will review your surgeon's discharge instructions with you the person who accompanied you for your surgery. Medications taken during hospitalization can make it difficult to remember all of the instructions. If you can't remember everything you and your nurse discussed, or if you have any questions or concerns regarding the discharge instructions, contact your surgeon's office.