Orthopedic Surgery Seminars
Register to attend and take the first step to understanding your options.
Preparing for surgery? Watch online.
Questions? Call 623-580-5800
Whether you have a recent spinal injury, unresolved pain or are in need of a second opinion, you'll find the latest technology and the clinical expertise you need at HonorHealth.
With your specialist's advice, you can choose the best solution for you — surgical or non-surgical. By using the latest technology and procedures, we'll help you get back on your feet faster than you might think possible.
Request a referral to a spine specialist
Minimally Invasive Surgery
Your spine is made up of 26 bone discs called vertebrae that protect your spinal cord and enable you to stand and bend. A number of conditions and injuries, from common disorders to complex cases such as adult scoliosis and traumatic injuries, can change the structure of the spine or damage the vertebrae and surrounding tissue. This can result in pain that can vary from a gradual, uncomfortable ache to a serious, debilitating condition.
Thanks to advancements in spinal surgery techniques, HonorHealth surgeons can perform spinal surgeries that require much smaller incisions than conventional surgery. The benefits of minimally invasively spine surgery include smaller incisions, less scarring, shorter hospital stays and quicker recovery times.
A New Level of Precision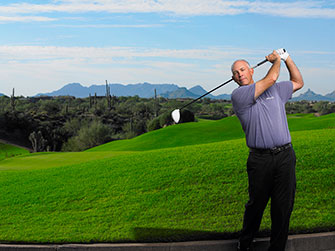 HonorHealth is on the forefront of minimally invasive spine surgery. With the 3D Image Guided spine surgery, orthopedic surgeons use the O-arm® Imaging System at HonorHealth's Scottsdale Osborn Medical Center, Scottsdale Thompson Peak Medical Center, John C. Lincoln Medical Center and Deer Valley Medical Center.
The O-arm allows surgeons to view the anatomy of a patient's spine and precisely track the location of their instruments throughout the entire surgery. By generating a 3D image of the patient's anatomy, the system "sees" the surgeon's instruments and superimposes them onto the scanned images, which the surgeon can refer to during the entire operation.
The improved visualization of the spine and surrounding tissues allows the surgeon to work through a small incision and avoid cutting muscle or damaging delicate nerves. The O-arm is used for a variety of minimally invasive spinal procedures, including spinal fusions, spinal fractures and deformities such as scoliosis.
Several HonorHealth surgeons travel the country teaching other orthopedic surgeons these innovative procedures.