As part of HonorHealth's commitment to improving the delivery of care for patients with serious or life-threatening injuries, the HonorHealth Research Institute conducts extensive trauma research.
The Institute's Trauma Research program brings together multidisciplinary teams, including scientists, emergency physicians, trauma surgeons, nurses and respiratory care professionals, to conduct trauma research.
Studies are conducted at HonorHealth Scottsdale Osborn Medical Center, John C. Lincoln Medical Centers and Deer Valley Medical Center, which are Level 1 trauma centers accredited by the American College of Surgeons.
Approximately 20 studies are completed each year, and 100-plus have been done since the launch of the program. Topics have included: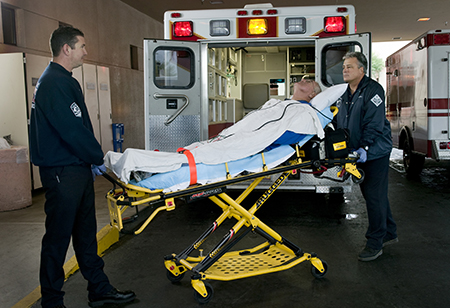 The prevention of the spread of Clostridium difficile, or C. Diff, in an emergency room setting
Post-traumatic stress disorder
Traumatic brain injury
Prevention of hospital-acquired and ventilator-associated pneumonia
New devices for critical care medicine
First responder tourniquet study, coordinated with the City of Scottsdale Police Department and the HonorHealth Military Partnership
Many studies have been published in peer-reviewed medical and trauma journals, leading to greater understanding of care among the emergency and trauma clinical community. Ultimately, the goals of the studies are to lead to better patient care and outcomes.