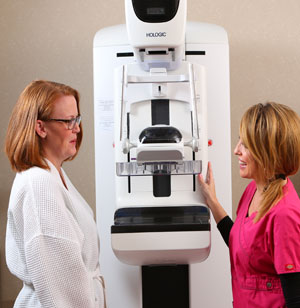 It's scary to hear your doctor say he or she found a lump on your mammogram. It doesn't mean you have cancer, it just means your doctor needs to get more information. Depending on the lump, your doctor will probably recommend doing a biopsy next.
There are several kinds of biopsies — most involve a specialist numbing a small part of your breast, then inserting a needle to take fluid or a very small sample (the size of a grain of rice, or even smaller) from the lump itself. An ultrasound will guide your doctor to the lump, and the tiny sample will be analyzed by a pathologist.
The new technology being tested by the HonorHealth Breast Health and Research Center in metro Phoenix speeds up and improves this biopsy process. Getting the tissue sample from the lump in your breast is the same — local numbing, a small needle inserted into the lump to get a tiny piece. But the new machine has an X-ray machine built into it that lets the doctor X-ray the sample as it's extracted.
It's much quicker, and the X-ray images are clearer, so the doctor knows immediately if the sample is adequate.
You sit upright for the biopsy, and you can see the X-rays at the same time the doctor does, if you like.
"Patients and doctors have loved this new method because it's so quick and clear; we're trimming four or five steps from a normal biopsy," said Linda Greer, MD, medical director at the center. "It takes one minute to do a biopsy now, and we know more conclusively if we got the sample we needed and what we're dealing with."
This brand new technology is FDA approved, but not yet commercially available. HonorHealth is involved early with the study.
Early detection is crucial
It's important to remember the importance of finding possible cancerous lumps early. Some breast cancers are aggressive and fast growing while others grow more slowly. What they have in common is that the earlier they're found, the more effectively they can be treated.
Diagnosing breast cancer continues to see advances, from 3D mammography to this new biopsy technique, Dr. Greer said. Earlier diagnosis and better outcomes mean a lot more hope for patients and their families.
If you're 40 or older, you should get a mammogram every year. You should start earlier if you have a family history or other risk factors. Talk to your doctor about your risk factors and don't delay scheduling your mammogram. You should also do regular self breast exams. If doctors catch breast cancer when it's small — even if it's aggressive — there are treatment options. Early detection is critical!