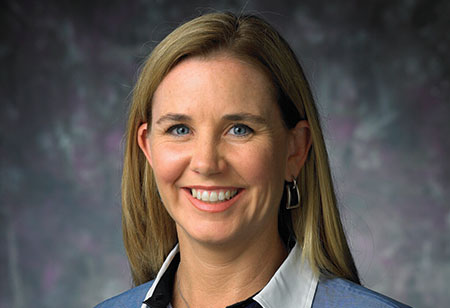 Ever wonder if your doctor practices what she preaches when it comes to all those health tips and recommendations?
If Tiffany Pankow, MD, an HonorHealth family medicine physician, is an indication, then doctors do heed their own advice. A working mom with two children, Dr. Pankow says it comes down to making healthy choices, planning ahead and keeping things simple.
To ensure her family eats a healthy diet, Dr. Pankow doesn't keep soda or juice in the house. She also stocks her kitchen with fresh fruits and vegetables, lean proteins and healthy snacks. Having healthy grab-and-go items on hand means fewer temptations with less nutritious options while the family's out and about. Not impressed with school lunches, she opts to make her kids' lunches each day.
As someone who finds cooking relaxing and enjoyable, Dr. Pankow makes time to experiment in the kitchen, using extra virgin olive oil in much of her cooking and avoiding trans fats whenever possible. She finds creative ways to add anti-inflammatory foods like berries and healthy, unsaturated fats like avocados, walnuts and almonds to salads and other dishes.
For Dr. Pankow, the goal is to get most of the nutrients she and her family need from food rather than supplements. However, she does take vitamin D and omega-3 fish oil supplements daily since it's difficult to get enough through food alone.
Exercise and mindfulness
To avoid putting off exercise, Dr. Pankow schedules her workouts, squeezing them in where she can. Otherwise, she says, exercise just won't happen. To get everyone moving, they go on family hikes, walks and bicycle rides when the weather permits.
When the busyness of daily life catches up with her, Dr. Pankow practices meditation and breathing exercises to relax. Eating dinner together as a family is another way to help her pause and appreciate life while strengthening the family connection. Those meals often begin with a prayer or the reading of an inspirational quote to spark dinnertime conversation.
Does she ever stray from her health regimen? She maintains an overall focus on health, but concedes that she indulges from time to time. Describing it as an 80/20 rule, she says her family makes healthy choices 80 percent of the time and enjoys little indulgences the other 20 percent. For her kids, it might mean having a soda or slice of cake at a birthday party. For Dr. Pankow, it's a cup of coffee in the morning and the occasional glass of wine.
For tips and recommendations on how you can improve your daily health routine, talk to your HonorHealth doctor or call 623-580-5800 to find a doctor.