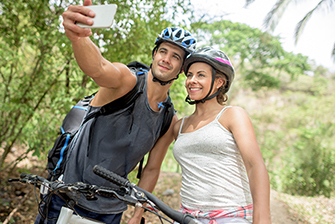 Take a #HealthySelfie and get a 'healthy selfie'
Make healthy a habit in 2017. Get out, get active, get on the path to good health and post your "healthy selfie" on social media – facebook, Instagram or Twitter. Share snapshots of how you're making healthy personal. It'll keep you motivated, inspire others to follow in your footsteps, and earn you chances to win fun fitness prizes along the way.
Document the things you do — both big and small — to be your healthiest self. Whether you're choosing healthy meal options, hitting the hiking or running trails, or taking a trip to your primary care doctor for that annual physical, every little bit matters in the journey toward good health.
How to post a HealthySelfie
Post pics of yourself and your friends or loved ones engaging in healthy activities using the hashtag #HealthySelfie. Follow and tag HonorHealth in your #HealthySelfie posts and you'll be entered in weekly drawings for cool prizes like gym bags, yoga mats, running gear and more. Each #HealthySelfie you share earns you another shot at winning prizes, not to mention winning your quest for wellness.
Karla Birkholz, MD, an HonorHealth primary care physician in Glendale, says wellness is about living life in a way that lets you do the things you want — physically, mentally and socially. It's about being able to participate in life in ways that you find fulfilling.
While wellness might mean something slightly different to everyone, Dr. Birkholz says six core principles of wellness apply to just about everyone:
Eating healthy.
Being active.
Avoiding toxins like cigarettes and sugar.
Getting enough sleep.
Managing stress.
Cultivating loving, supportive relationships.
"We're social creatures, and we need loving, healthy relationships to thrive," says Dr. Birkholz.
Inspire others, spark change
Social media undoubtedly play a key role in how you engage and foster healthy relationships with others. The #HealthySelfie campaign is an intriguing and inspiring way to show how you're making healthy personal. It's also an opportunity to see what others are doing to stay healthy.
You're already engaging with friends, family and followers on social media. Join the #HealthySelfie movement and help spark social change in how you and others view wellness and what it means to be healthy.
Small changes add up
"You don't need to hit the gym for hours on end in order to be healthy," Dr. Birkholz says. "The small steps you take each day to be just a little healthier than the day before add up. There's no one way to be healthy."
Make healthy personal. Follow and tag HonorHealth and post your #HealthySelfie today.
Follow and tag @HonorHealth on facebook and Twitter.
Follow and tag HonorHealthAZ on Instagram.
HonorHealth must be able to see your photos for you to be entered into the weekly prize drawings. Learn more at honorhealth.com/healthyselfie.
Talk to your HonorHealth primary care physician to learn more about how you can get your "healthy selfie." Call 623-580-5800 or find a doctor and get ready to show your #HealthySelfie on social media.