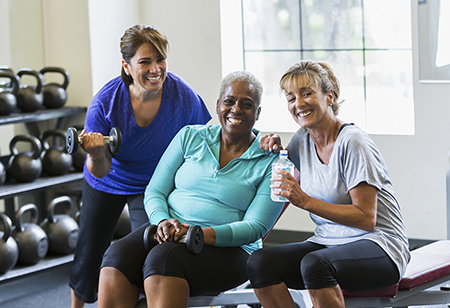 Wellness requires more than a resolution
Do you believe resolutions are really short-term goals that you like to pretend will make the long-term cut? After all, you can forego desserts for a few days, but when it comes to a few months, you're pushing it. A year or more — now you're just talking crazy.
Achieving wellness requires more than saying you'll do it as the ball drops and the clock strikes midnight to usher in a New Year. It requires more than launching a wellness regimen three weeks before swimsuit season. Wellness requires making a conscious decision and then committing effort, energy and enthusiasm to achieve and maintain it.
If you want to make lifestyle changes to foster greater wellness, consider the advice of Karla Birkholz, MD, wellness medical director at HonorHealth Medical Group West Union Hills Drive .
What is wellness?
Dr. Birkholz says wellness is being able to do what you want to do physically, mentally and socially, and feeling like you're well enough and have enough energy to fully participate in your life.
Sure, life is complicated. Work, family, friends — even hobbies and fitness — factor in. You have to figure out how to manage it all in a healthy way.
According to Dr. Birkholz, there are six core principles of wellness — all or most of which you've probably been told time and time again — that now have greater clarity and more supporting research.
Despite knowing that these things are good for you, you may often choose immediate gratification and short-term distractions. Perhaps having these six principles in a list will be the motivation you need to create a lifestyle centered on wellness.
Six core principles of wellness
Eat healthy: Eat real whole foods, mostly plant-based. Avoid highly processed foods and steer clear of sugar and flour. Focusing on eating a variety of healthy foods actually leads to enjoying food more. And, Dr. Birkholz says, you don't need to eliminate chocolate since dark chocolate is good for you!
Be active: It's about more than exercise. It's about being active in daily life ­­— moving frequently and not sitting for extended periods of time. Get up and move at least one to three minutes every half hour. In addition, your daily exercise program should be moderate in intensity, frequency and duration to ensure balance. The general rule of thumb is to get 30 minutes of exercise five times a week.
Avoid toxins and poisons: Not surprisingly, Dr. Birkholz cites tobacco and excessive alcohol consumption as the two biggest culprits. More than one serving of alcohol a day for women and two servings a day for men is considered excessive.
Sleep enough: People often underestimate the value of adequate sleep when it comes to long-term health and wellness. Beyond getting enough sleep, Dr. Birkholz says it's important to get quality sleep. Sleep is when your brain cleanses itself, giving the body a better chance to recover and prepare for what's to come. Generally speaking, adults should strive for seven to eight hours a night, teens should get eight to 10 hours, and children should sleep 10 to 12 hours. As a society, we fall far short of these recommendations.
Manage stress: Stress is unavoidable — it's a part of life that gives you a chance to exercise and build your emotional strength, Dr. Birkholz says. The key is managing stress — eat well, sleep enough, be active and avoid toxins. Funny how these things come full circle, huh?
Cultivate loving, supportive relationships: As a human being, you're a social creature. You need loving, healthy relationships in order to thrive. Avoiding people — sometimes even family members — who are harmful to you can improve your emotional health and well-being. Dr. Birkholz suggests learning to appreciate and value the positive, loving people in your life.
Living by these six principles will give you the capacity and resiliency to face and overcome the inevitable struggles and stresses that are facts of life. The principles also go a long way toward preventing a wide range of diseases and chronic health conditions while helping you live a happier, fuller life.
There's a reason they say "ask your doctor." Contact your HonorHealth doctor to answer your questions or call 623-580-5800 to find a doctor who can.