It happens every year: you resolve to be more physically fit. You start the New Year with the best of intentions and then a few months in, you find yourself myself making concessions. As in, do you really need to run tonight? You took the stairs – nine times – at work today. That counts as exercise, right? Not exactly.
It turns out that while your treks up the stairs count as physical activity, calling it exercise is a bit of a stretch. In speaking with Stacey Dault, DO, a primary care physician at HonorHealth Medical Group McDowell Moutain Ranchwith sub-specialty training in sports medicine, it's clear that not all exercise is created equal.
Exercise is actually a subcategory of physical fitness. The key difference is that exercise is intentional physical activity centered on a particular goal that raises your heart rate and strengthens your muscles. Running, hiking, swimming and bicycling are good examples. On the flip side, physical activity is anything that has you up and moving around. Vacuuming, gardening, walking the dog or, in my case, taking the stairs at work all meet the measure of physical activity. As much as you might like to vacuum and clean your way to good health and a great shape, that's just not going to happen.
So how much exercise do you need to make headway? Dault suggests following these guidelines from the American College of Sports Medicine:
Moderate Exercise: 30 minutes, five times a week (2.5 hours a week total).

Gets the heart beating faster and speeds up breathing to the point where you can still speak in full sentences, but can't sing.
Depending on the person, moderate exercise may include riding a bike, jogging, hiking or other similar activities.

Vigorous Exercise: 20 minutes, three to four times a week (75 minutes a week total).

Gets the heart beating faster and speeds up breathing to the point where speaking more than a few words at a time is difficult.
Running, swimming laps at a fast pace, etc.

Resistance Training: twice per week.

Goal is to work all major muscle groups.
Focus on improving strength, balance, agility and flexibility.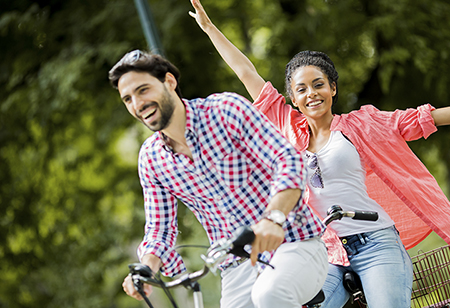 While not everyone can hit these benchmarks right away, Dault says you still reap plenty of rewards while building up your strength, stamina and intensity. She suggests that beginners alternate their activities on different days and that they not increase the amount of exercise they get by more than 10 – 20 percent each week to avoid injury. Of course, it's always wise to ask your doctor before beginning any new exercise regimen, particularly if you're older or have any pre-existing health conditions.
For some even better news, Dault says that gym membership doesn't have to be part of the mix. In fact, she says most exercise, like running, swimming and bicycling, can be done at home without the need for costly club memberships or fancy equipment. Even exercises that use your own body weight such as push-ups, pull-ups, lunges and squats can go a long way.
In the end, you should keep taking the stairs at work – it's a great excuse for a few minutes of solitude between meetings – but lace up your running shoes or a find a low-impact exercise you like at least three times a week.
There's a reason they say "ask your doctor." Contact your HonorHealth doctor to answer your questions or call 623-580-5800 to find a doctor who can.