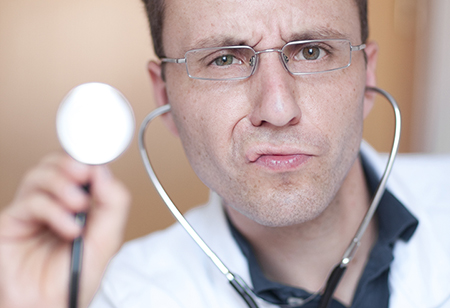 Primary care doctor, Simi Dhillon, MD at HonorHealth Medical Group North Phoenix, shares her thoughts on what she wishes patients knew:
As I'm sure is the case for most, if not all, of my fellow physicians, my decision to become a doctor was based on a desire to help people. As a primary care physician, I have the opportunity to help men and women navigate a wide range of health issues. When I can treat them directly, I do. When their symptoms require the care of a specialist, I make the appropriate referral, so our patients get the best medical care possible for their needs. I work alongside patients to prevent illness, manage chronic health conditions and help them recover from illness.
But help is a two-way street. Not only do I, as a provider, need to offer guidance and support. My patients need to be comfortable enough to openly and honestly share what's happening in their lives – symptoms and circumstances that directly impact their health and well-being. Our conversations are confidential. Our objective is to help you with your healthcare needs.
No two patients are exactly alike, yet there are many health guidelines that apply to almost all of us, myself included. So, when asked what I wish my patients knew, here are some of the things that to come to mind:
Know the name, dose and frequency of every medication or supplement you take.
Keep tabs on and monitor your symptoms. Whether it's a cold that you've been fighting for a few days or a condition like high blood pressure or diabetes that you've been managing for years, it's important to keep track of how things are going and any changes that occur.
Get at least 150 minutes (close to 2.5 hours) of aerobic exercise each week. It does wonders in terms of maintaining overall health and wellness.
Eat a Mediterranean diet, which includes:

Consuming more fruits, vegetables and nuts.
Limiting red meat and dairy, instead consuming more fish and poultry.
Curtailing salt and sugar.
Using olive and other vegetable oils.
Replacing refined grains with whole grains.
Minimizing starch (bread, pasta, rice and potatoes).
Eating a high-protein breakfast daily.
Eating small, frequent meals and healthy snacks.
Not drinking more than two caffeinated beverages daily.

Sleep 7 – 8 hours a night. I know this one is almost laughable. Who in America gets that much sleep each night, right? I promise it's important and the rewards of adequate sleep are many.
Use sunscreen if you'll be outside for more than 20 minutes.
Get a flu shot every year, regardless of your age or other health conditions.
Undergo colon cancer screening after age 50. Early detection is important.
Women should be screened for breast cancer every 1 – 2 years after age 40.
Men should speak with their doctor about prostate cancer screening after age 50.
If you're experiencing abuse, please don't be afraid to speak up. Help is available if you are in this situation.
All of these widely promoted health recommendations, including annual exam, checkup and immunization guidelines, have proven meaningful in maintaining good health.
The goal of primary care is to keep you healthy and in the best position to address any health issues that may arise. That, above all, is what I wish my patients knew.
There's a reason they say "ask your doctor." Contact your HonorHealth doctor to answer your questions or call 623-580-5800 to find a doctor who can.