Imagine a place where you can get your mammogram and know your results the same day — where follow-up tests are scheduled right away, and results are typically received within 24 hours.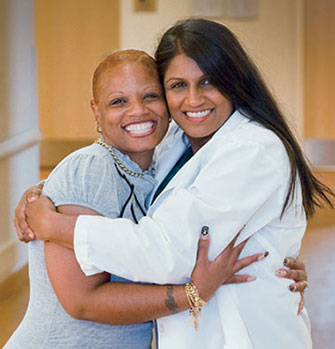 HonorHealth's Breast Health and Research Center gives you all of this in a caring, comfortable setting — along with state-of-the-art diagnostic tools and interventional technologies. From routine mammograms to advanced interventional procedures, you'll encounter breast health care that's equally comprehensive, comfortable and cutting edge.
Less Time Waiting, Worrying
We'll not only get you in for your mammogram quickly, but we'll also perform your biopsy — and help you see your surgeon, if necessary — as quickly as possible.
For mammography, you'll be seen within one week of calling for an appointment. If you're already experiencing a problem, we'll offer mammography within 72 hours.
You'll receive your diagnostic exam results at your appointment, and if a biopsy is needed, we'll perform the biopsy within 24 to 48 hours of scheduling the appointment. Test results are typically back in 24 hours. If surgery is required, our patients can be scheduled to see a breast surgeon.
Print information for the Breast Health and Research Center (PDF).
Print information for the Breast Health and Research Center Spanish (PDF).
The Right Technology, The Right Person
Our philosophy is simple: We believe that having the right equipment is not as important as the person who's using it.
A breast center can have the best equipment and perform 5,000 mammograms per month. Yet, when it comes to reading the mammograms, that center may have 20 different general radiologists on staff, and digital mammography is just part of what those radiologists do.
Our center offers a level of specialization that, in our opinion, is not matched in Phoenix. We have two dedicated breast specialists on staff. They focus completely on breast imaging, performing thousands of imaging procedures per year.
If additional care is needed, our patient navigator will guide you through the entire process. The patient navigator will help you navigate your care by compiling medical records on your behalf, helping with physician appointments and communicating with referring physicians to coordinate the next steps in your treatment plan.
Comprehensive Care
At the Breast Health and Research Center, you'll find a full spectrum of breast-imaging capabilities — screening and diagnostic mammograms; breast ultrasound; ultrasound- or stereotactic-guided biopsies; and breast MRI — all in one location on the Deer Valley Medical Center campus.
In addition, our doctors use the same set of diagnostic tools from one procedure to the next. They therefore have a profound understanding of how these tools correspond with each other. For example, our specialists can see how ultrasound results correlate with a mammogram. This "big picture" ability helps tremendously when diagnosing rare forms of cancer.
Breast Health and Research Center Location Details
Deer Valley Medical Center
19646 N. 27th Ave., Suite 205, Phoenix, AZ 85027
Google map and driving directions. | Download a campus map (PDF requires free Adobe Reader software).
For an appointment, call 623-780-HOPE (4673).
Sonoran Health and Emergency Center
33423 N. 32nd Ave., Phoenix, AZ 85085
(Satellite office: Low-dose 3-D mammography, bone densitometry, body composition analysis)
Google map and driving directions.
For an appointment, call 623-780-HOPE (4673).
John C. Lincoln Medical Center*
9250 North Third Street, Suite 1002, Phoenix, AZ 85020
(Satellite office: Screening mammograms and bone densitometry)
Google map and driving directions.
For an appointment, call 623-780-HOPE (4673).
*Location is inside the Outpatient Medical Imaging Center.
To support the Breast Health and Research Center, please make a donation:
Donate Now