Recovery after heart surgery
Although your heart itself is resilient — there's not much it can't handle — the type of incision used by your HonorHealth heart specialist for your heart surgery will dictate how soon you return to your usual exercise routine.
Even with traditional heart surgery, when the breastbone is broken to repair the heart, you can be exercising strenuously in two to three weeks. Just keep in mind that you're recovering not only from surgery, but also from heart disease.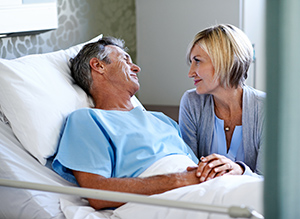 Types of heart surgeries, from least to most invasive are:
Transcatheter procedures, such as transcatheter aortic or mitral valve replacement. The cardiologist and a team of specialists thread a catheter through a small incision at the top of your leg or in an artery in your chest, guiding the catheter and the valve inside it to the heart to replace the faulty valve.
Minimally invasive surgery is another option if you need a heart valve repair. HonorHealth is one of the few health systems in the country to offer this type of surgery to repair a heart valve. The surgery has no age limit; heart specialists operate on patients from age 18 to 90 and even older.

Aortic valve surgery involves a two-inch incision between the ribs above the breastbone. Mitral valve surgery involves a two-inch incision between the breastbone and the armpit.

Traditional open-heart surgery, in which the chest is opened by breaking the breastbone. Recovery from this type of surgery involves time to allow the bones to mend back together.
Cardiac rehabilitation
Cardiac rehab has been shown to improve your exercise tolerance and your psychological and social well-being without increasing your risk medically. In an HonorHealth cardiac rehabilitation program, you'll learn how to adopt a healthy lifestyle with the help of such medical professionals as cardiologists, nurses, exercise physiologists, physical therapists, dietitians and social workers.
Cardiac rehabilitation involves three phases:
In-hospital: Your medical team in your HonorHealth hospital will gradually introduce you to exercise so you're prepared to go home to recuperate.
A six-week cardiac rehab program: Offered three times a week at a cardiac rehab center such as the HonorHealth facilities at John C. Lincoln, Deer Valley or Shea medical centers.
Gym membership: You maintain your cardiac fitness with regular workouts at your favorite gym.