Cardiac Rehabilitation
HonorHealth's Cardiac Rehabilitation Centers are the Valley's largest and only multidisciplinary cardiac rehabilitation centers staffed with a committed team of talented cardiologists, registered nurses, certified exercise physiologists, a social worker and registered dietitians.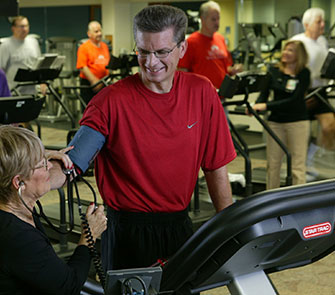 All facility staff members teach cardiac risk factor education classes. Our Scottsdale location has earned the highest level of certification from the American Association of Cardiovascular and Pulmonary Rehabilitation.
Cardiac rehab is especially important for patients who have had:
Heart attacks.
Angioplasty/stent(s).
Coronary artery bypass grafts.
Valve surgery.
Congestive heart failure.
Other related heart issues.
Cardiac rehab consistently has been shown to improve exercise tolerance and psychosocial well being without increasing risk. Both comprehensive and individualized cardiac rehabilitation programs utilize a wide-range of medical professionals including cardiologists, nurses, exercise physiologists, physical therapists, dieticians and social workers.
HonorHealth offers cardiac rehab in three phases:
Phase 1: Initiated while you're still in the hospital, this phase has you working with the medical team and beginning to take short walks to increase the strength of your heart. Muscles can lose strength quickly if not being used, and walking is the first step to prevent that.
Phase 2: After hospitalization, a medically monitored four- to 12 week-outpatient program will help restore and maintain a healthy heart. This phase requires a cardiologist's prescription and is covered by Medicare and most private health insurance plans.
Phase 3: Preserving and protecting the heart is the goal during this phase. This is a health maintenance and self-improvement program for motivated patients. A physician's prescription is required to participate and is not covered by insurance.
Cardiac Rehab Facilities
Deer Valley Medical Center
Medical Office Building 2
19636 N. 27th. Ave., Suite LL4, Phoenix
623-879-1800
John C. Lincoln Medical Center
Cowden Center
9202 N. Second St., Phoenix
602-870-6368
Scottsdale Healthcare Cardiac Rehab Center
9201 E. Mountain View Road, Ste. 150, Scottsdale
480-323-4600