HonorHealth's Cardiac Rehabilitation Centers are the Valley's largest and only multidisciplinary cardiac rehabilitation centers staffed with a committed team of talented cardiologists, registered nurses, certified exercise physiologists, a social worker and registered dietitians.
All facility staff members teach cardiac risk factor education classes. Our Scottsdale Shea Medical Center, John C. Lincoln Medical Center and Deer Valley Medical Center locations have earned the highest level of certification from the American Association of Cardiovascular and Pulmonary Rehabilitation.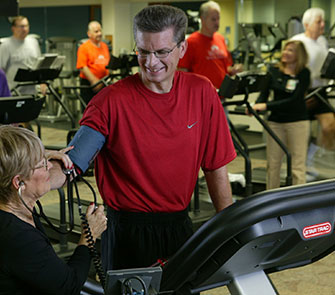 Cardiac rehab is especially important for patients who have had:
Heart attacks.
Angioplasty/stent(s).
Coronary artery bypass grafts.
Valve surgery.
Congestive heart failure.
Other related heart issues.
Cardiac rehab consistently has been shown to improve exercise tolerance and psychosocial well being without increasing risk. Both comprehensive and individualized cardiac rehabilitation programs utilize a wide-range of medical professionals including cardiologists, nurses, exercise physiologists, physical therapists, dieticians and social workers.
HonorHealth offers a multi-phased approach to cardiac rehab:
Phase 1: You will start rehab while in the hospital. Your medical team will educate you about heart disease and gradually introduce you to exercise so you're prepared to go home.
Phase 2: After you leave the hospital, the rehab team will arm you with the knowledge and tools necessary for a healthy lifestyle. Through counseling on exercise, nutrition, heart disease, stress and emotional wellbeing, you'll learn to stay healthy, regain your strength and reduce your risk for future heart issues.
Phase 3: The program builds upon your progress in Phase 2 with preventive education and rehabilitation support.
All phases require physician prescriptions. Insurance coverage options vary by phase.
Print out the information for our Cardiac Rehabilitation Program (PDF).