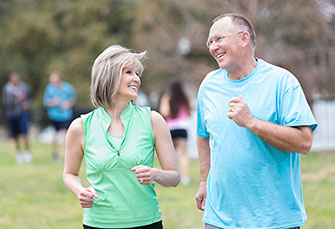 Exercise, especially aerobic exercise, can have profound positive effects on some major health problems such as hypertension, diabetes and arthritis. In short, working out can make you feel energized, relaxed and positive.
Mental Benefits of Exercise
Triggers the release of feel-good chemicals such as neurotransmitters and endorphins.
Decreases immune system chemicals that may worsen depression.
Provides calming effects by increasing your body temperature.
Psychological & Emotional Benefits of Exercising
Meeting goals or challenges can boost your self confidence. Getting fit may also improve your appearance and self-image.
Distracts you from your cares and breaks the negative thought cycle.
Socialize with like-minded people. You may even meet one of your neighbors just by getting out and taking a walk!
Exercise is a healthy positive step to manage anxiety or depression. Using alcohol, eating or other negative behaviors may actually worsen your symptoms.
You can adjust your exercise routine to accommodate the foods you love so you can eat guilt free and really enjoy time with family and friends.
Make a plan. Given all of these great reasons to exercise, why would anyone go through lift without exercising? Make a list of any excuses you've used to avoid exercise. Look at the list and think about potential solutions. If motivation is an issue, maybe finding an exercise partner will help. Too tired at night to hit the gym? Pick a different time of day to work out and commit to it (you might find you're a morning person after all.).
Finally, prepare for setbacks and barriers. Give yourself permission to miss exercise once in a while. Develop a "make-up plan" that makes sense for you. Remember: this is an adventure in getting and feeling better.
Ready to get started? First, see your doctor and get the go-ahead for exercise. Second, start with something you'll enjoy. Exercise can take many forms—start by getting off the couch! Take a walk or bike ride. Get out and garden, wash the car or play catch with your kids. Third, set goals for how often you'll exercise. Thirty minutes a day is ideal but you can benefit from exercising for just 10 minutes, 2-3 times a day.
There's no need to wait for the new year to commit to getting in shape. Get fired up for Fall today!
Cary C. Bucko, PT, MPT
HonorHealth Medical Group
West Union Hills Wellness Physical Therapy
References: Harvard Medical School Health Publications and the Mayo Clinic