With Arizona's extreme heat, kids have an increased risk of a heat-related illness, according to Dr. Heather O'Toole, a family medicine physician with HonorHealth Medical Group. Children and teens produce more heat during exercise and don't sweat as much. They might not understand the need to hydrate, or they rely on adults to offer fluids. Symptoms include: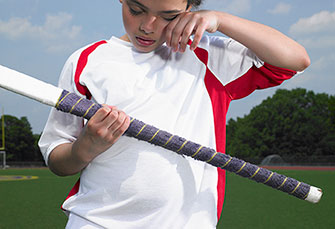 Muscle cramps.
Dry mouth.
Thirst.
Weakness.
Dizziness.
Irritability.
Headaches.
If your child experiences any of these symptoms, remove them from the heat and offer fluids. These symptoms can progress to heat exhaustion: elevated body temperature, dehydration, discomfort, nausea, vomiting and confusion. If so, you may need to call a doctor.
Heat stroke occurs when body temperature exceeds 104 degrees, causing skin redness, fainting or problems with bodily function. Seek emergency care immediately. Offer fluids, remove your child from the heat, undress him/her, lay him/her down with legs elevated, and spray or sponge with water.
Advice from an Expert
Dr. Eric Goldberg offers these tips on preventing and dealing with heat cramps, heat exhaustion and heat stroke:
Never leave a child inside a parked car.
Provide plenty of fluids before, during and after exertion.
Dress in light-colored clothing.
Use sunblock routinely during outdoor activities.
Limit exertion between 10 a.m. and 6 p.m.
Bring your child indoors if overheated or with symptoms of a heat-related illness.
Make sure your child's coach has an emergency plan and contact numbers, and gives breaks every 30 minutes for fluids and rest.

Manage your child's health with the trusted physicians at HonorHealth. For after-hours care, visit one of our emergency room locations.