Be well. You hear it often enough. But what is the key to wellness and, as important, how do you unlock it for your family?
Exercise, eat right and spend time together. Yes, but so much more.
Here are six easy steps to help get you – and your family – started: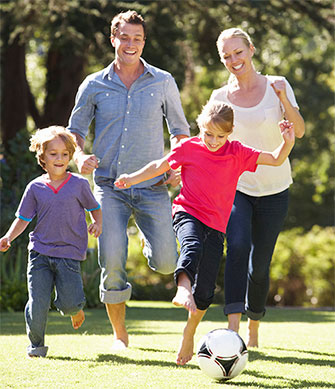 Get moving. Think of wellness as a dartboard and physical fitness as the bull's eye – regular physical activity can positively impact everything else around it. Turn off the television and play with your kids, walk your family dog, plant a garden or train for an event together. Take turns picking out a new activity that everyone can try or go old school with one of your own childhood favorites. Tag anyone?
Get organized. If you are reading this and thinking about how your family could adopt a healthier lifestyle, then maybe your friends are, too. Get together and explore the fitness options in your neighborhood. Talk with your friends, co-workers and your primary care physician about your family's wellness plans. You might be surprised at how others can support your goals.
Get social. Volunteering together packs a one-two punch. Your family contributes to the larger community and also builds your social networks. Look for all-ages opportunities through local nonprofits, municipalities, schools, religious organizations and community groups. Shake up your regular volunteer routine with something outside your comfort zone (expand your world view!) or activity that includes a little physical activity (bonus!).
Family time. Your best support group is each other, but busy families rarely get enough quality time together. If dinnertime is not the ideal setting to talk about wellness, you can call a family meeting this weekend to set goals, resolve conflicts, improve cooperation and talk through accountability. Pencil in regular meet ups on the family calendar to check in: Who needs a little extra support this week? Are we on track with wellness goals? Should we just go play in the park? Getting everyone together helps everyone takes ownership.
Play time. Organize regular family game nights and give "game" a broad definition: board games, cupcake decorating competitions, basketball shoot-outs, in-house scavenger hunts, pizza bake offs. Look through a family photo album and reminisce together or share little-known stories. Pull out a family recipe and make it together. There are so many ways to play together if the goal is to make something fun.
Be still. Being well isn't just adding more activity to your day. In your busy world, it's important to unplug. Work, homework, afterschool activities and daily routines can be stressful over time. Intentionally leaving your phone on silent and encouraging your family to read a book or watch a movie without interruption can be one of the greatest benefits to your overall wellness.
Having a hard time getting started? Start with one family walk after dinner, moving just fast enough to get the blood flowing but at a pace that allows everyone to talk through a concern or brainstorm ideas. This is a great way to get exercise, spend time with family and do some problem solving.
Families can improve wellness in ways big and small. Resist grand plans that involve too much time and money. This will help you avoid over committing and decrease discouraging setbacks. Start with these small easy steps – pick something that you can start doing today – for big results.
Wellness is a journey worth enjoying. Be well.