Weight loss surgery may be an option if you're very obese and have not been able to lose weight through diet and exercise. However, these surgeries are not considered a quick fix for obesity. You still must be committed to diet and exercise after the surgery.
Choosing to undergo weight loss surgery is a very serious decision. Bariatric surgery procedures are considered major surgeries and require careful consideration by you and your doctor.
Attend a free seminar to learn if this is a good option for you. You can also see cash pay options for select bariatric procedures.
Laparoscopic Weight Loss Procedures
The three most common weight loss surgeries, all performed laparoscopically (through small incisions near the belly button) are: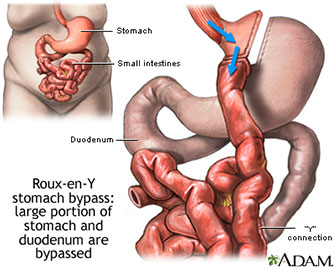 Gastric Bypass Surgery: The Honor Health Bariatric Center performs the Roux-en-Y gastric bypass surgery, considered the gold standard of bariatric surgery by the American Society of Metabolic and Bariatric Surgeons and the National Institutes of Health. It helps you lose weight by changing how your stomach and small intestine handle the food you eat. After the surgery, you won't be able to eat as much as before, and your body will not absorb all the calories and nutrients from the food you eat.

Gastric bypass can help you lose up to 87 percent of excess weight at two years and maintain at least 68 percent average weight loss for years post-surgery. Now with refinements to the operation, many patients are able to lose between 85 and 100 percent of their excess weight and keep it off long-term.

During the Roux-en-y procedure, only a small part of the stomach is used to create a new stomach pouch. The smaller stomach — about the size of an egg — bypasses the remainder of the stomach and the upper portion of the small intestine and connects directly to the middle portion of the small intestine.
Gastric Sleeve Surgery: Also known as sleeve gastrectomy, gastric sleeve surgery is an irreversible surgery that permanently reduces the size of your stomach by approximately 85 percent. During this procedure, the surgeon creates a small, sleeve-shaped stomach that accommodates three to four ounces of food at a time. The stomach will be about the size of a banana, and larger than the stomach created by the Roux-en-Y bypass. You may be an ideal candidate for this procedure if you don't have diabetes or gastroesophageal reflux disease, which is caused by stomach acid going into the esophagus.
Adjustable Gastric Band: An inflatable band is placed around the upper part of your stomach, effectively creating a smaller stomach pouch. The band limits the amount of food that can be ingested at one time and leads to weigh loss by allowing you to feel full with less food.
An Honor Health Bariatric Center surgeon will help you decide which procedure is best for you. For information, please call 480-882-7460, or attend a free bariatric weight loss surgery seminar.