Although weight-loss surgery is necessary for some individuals, it may not be the best option for you.
If you have excess weight to lose, but want to avoid surgery — or if you need help losing weight to be ready for surgery — HonorHealth offers such alternatives as:
Medically supervised programs.
Device-assisted weight loss.
Innovative options not yet available on the mass market.
Medically supervised weight loss
With this alternative, you'll meet with a bariatric nurse practitioner each month to discuss lifestyle changes that include diet and exercise programs. You'll create realistic action plans and make follow-up appointments to track and document your progress.
To learn more, call 480-882-7460.
Intragastric balloon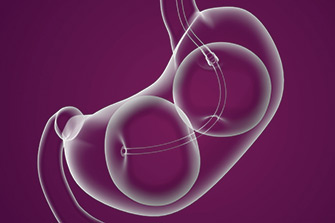 You may be a candidate for an intragastric (inside your stomach) balloon procedure to help jump-start your weight loss if you:
Have a BMI of 30 to 40.
Have attempted diet and exercise without success.
Have one or more medical conditions resulting from excess weight.
A bariatric specialist will insert an instrument called an endoscope through your mouth, placing two saline-filled balloons in your stomach. Using two balloons lets you feel fuller; some studies have shown that this leads to greater weight loss potential.
The balloons will stay inside your stomach for six months, helping you feel full as you eat less food. During this time, you'll meet regularly with registered dieticians and weight-loss coaches.
After six months, your bariatric specialist will remove the balloons in another endoscopic procedure. You'll continue to receive weight-loss coaching for an additional six months to help you stay on track with your goals. At the end of the year, you'll have the tools you need to keep the weight off for good.
To learn more about the intragastric balloon watch the video online or call 480-882-7460.
Clinical trials
You may be eligible to participate in a non-surgical research study through our clinical research program. In partnership with the HonorHealth Research Institute, the Bariatric Research Program gives you early access to help bring innovative treatment options to market.
The Bariatric Research Program is a pioneer in obesity research that directly impacts the health and well-being of not only individuals in our community but also those in the U.S. and other countries. Clinical trials conducted through the Bariatric Research Program have resulted in FDA approval of new devices, including the intragastric balloon.
To learn more about current studies at the Bariatric Research Program, call 480-323-1292 or email bariatricresearch@honorhealth.com.