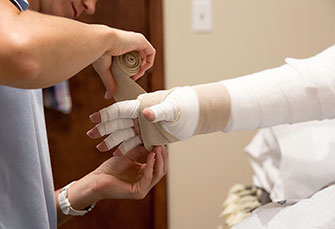 There are two types of lymphedema:
Primary lymphedema can be caused by malformation of the lymph vessels. It may be present at birth or could develop later in life.
Secondary lymphedema is a result of damage to the lymphatic system. Causes may include traumatic injury, infection, chronic venous insufficiency and wounds. Surgical procedures such as mastectomy, lumpectomy, coronary bypass, prostatectomy, total joint replacement, radiation therapy and removal of lymph nodes also can cause lymphedema.
Who Should Seek Treatment?
If your cancer operation included lymph node removal, or if you've had any swelling of the arm, hand, chest, leg, face or any other part of the body, you are a candidate for evaluation and should seek treatment for lymphedema.
If you have swelling from diabetes, joint replacements, joint fractures, non-healing wounds or swelling that just develops, you are also a candidate for treatment.
Controlling Lymphedema
With early intervention and proper treatment, lymphedema can be controlled, allowing you to lead a full, functional life. It's frequently a persistent condition however, and it's essential to manage it properly using techniques to reduce swelling and manage other side effects.
Contact us
You're welcome to contact the Lymphedema Treatment Center for information and assistance. However, because lymphedema therapy is a medical treatment, a referral from your physician is required to initiate treatment. If you believe the center can help you, please contact your physician for a referral.
Please also download and complete the appropriate set of forms below prior to your appointment.
Arms
(.zip format; all forms included)
Consents and Commitment-Both
DASH-Arm
Intake Form
Upper Body - LYMQOL-Arm
Legs
(.zip format; all forms included)
LYMQOL
Intake Form
Extremity Functional Scale
Head and Neck
(.zip format; all forms included)
Consent and Commitment
Intake Form
Functional Scale
If you're a new patient or if you have any other questions or concerns, please call 480-323-1100.