Lymphedema is swelling that can occur in arms, legs, head or neck due to lymph vessels damaged or removed due to cancer. Skilled therapists in the HonorHealth Virginia G. Piper Cancer Care Network can use the following techniques to relieve swelling and drain built-up lymph fluid: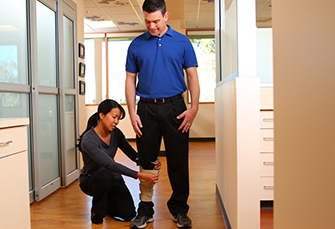 Manual lymph drainage: This non-invasive, manual therapy technique drains fluid from the affected area's superficial lymph vessels.
Compression bandaging: Low-stretch bandages wrap the area, resulting in fluid reduction.
Sequential compression pumps: In some cases, the therapist may use compression pumps in conjunction with manual lymphedema therapy. Some patients also use sequential compression pumps at home when needed.
Skin care management and treatment: This is an essential component of the overall success of lymphedema therapy. It keeps tissue healthy and maximizes skin nutrition. Therapists look closely for early signs of redness and/or infection.
Therapeutic exercise: Exercise, including flexibility, strengthening and aerobic activity, often helps the lymphatic system drain excess fluids.
Kinesio taping: Based on the body's natural healing process, this technique activates neurological and circulatory systems to facilitate the flow of fluids.
Self-management instruction: Therapists will teach you how to manage lymphedema while at home.
A physician referral is required.
HonorHealth therapists also may offer:
Help selecting medical compression garments and supplies for therapeutic home programs.
A monthly educational support group.
If you're a new patient or if you have any other questions or concerns, call 480-323-1100.
Forms
Arms
Legs
Head and neck