When you need help in a hurry, you'll find expert emergency care from HonorHealth in your neighborhood. All five of our medical centers operate 24-hour emergency departments that handle cases ranging from illnesses and minor injuries to major medical emergencies, trauma and stroke.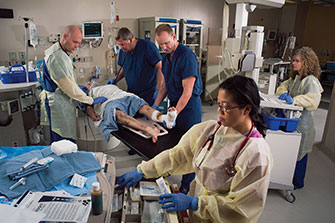 Throughout the Valley, our emergency centers are equipped with the technologies and talented, compassionate clinical staff to handle medical emergencies large and small.
HonorHealth also has dedicated pediatric emergency centers at Deer Valley Medical Center and Scottsdale Shea Medical Center. These two centers are designed just for kids and staffed by board-certified emergency physicians and nurses trained in pediatric care.
Level I Trauma Centers
Following a severe injury, every minute counts — and the chance of survival is greatest if treatment is given within the first hour of the injury. Two HonorHealth emergency departments are Level 1 trauma centers, which is the highest designation by the American College of Surgeons.
Level III Trauma Center
Deer Valley Medical Center has earned a Level III trauma center designation. It's defined as being able to provide prompt assessment, resuscitation, surgery, intensive care and stabilization of injured patients and emergency operations.
Level III designation requires surgeons on call to have Advanced Trauma Life Support (ATLS) accreditation from the American College of Surgeons. ATLS teaches a standard approach for trauma assessment and treatment so the most time-critical interventions are performed first.
Sonoran Health and Emergency Center
Sonoran Health and Emergency Center in the north Valley is a freestanding emergency center offering care 24 hours a day, seven days a week, to people of all ages. The center serves as a destination for emergency care, breast health and medical imaging.
Our board-certified physicians, registered nurses and respiratory therapists provide care 24/7.