Having your baby at HonorHealth Scottsdale Shea Medical Center
The HonorHealth Birthing Center – Scottsdale Shea gives you the support, resources and expertise you need so that your experience is marked by ease, comfort and joy as you welcome your baby.
Should you or your baby need special care, your obstetrician, neonatologists and a neonatal intensive care unit (NICU) are close at hand, ready to meet the needs of you and your baby and allowing you to focus on the most important thing — nurturing your growing family.
Your comfort begins in a private birthing suite that will accommodate not only you but also those supporting you during the birthing process. This home-like environment includes a Jacuzzi tub, patient-controlled thermostat and room service that can be ordered conveniently from your room's television once you have delivered. You and your loved ones also can enjoy the room's CD and DVD player, free Internet access, a microwave and refrigerator.
Once your baby is born, a lullaby will be played throughout the hospital so others can share your joy.
After delivery, your baby will remain with you in your post-partum room until discharge. This allows you and your partner to bond with the baby immediately and gives you and your family an opportunity to ask questions and to prepare for what to expect at home.
Everything you need for a safe arrival
You and your baby's medical needs will be met by an experienced and dedicated team of physicians, neonatologists and nurses supporting you at each stage of your delivery and beyond. OB/GYN hospitalists are onsite 24 hours a day/seven days a week to provide care at your request or in the event of an emergency requiring immediate assessment and treatment.
Every service, medical expert and amenity you and your baby could need is readily available in one convenient location staffed by a team of compassionate, highly qualified healthcare professionals. Should the need arise, three surgical suites are available to ensure a safe arrival for your baby.
If your pregnancy is considered high risk due to multiple babies, preterm labor, preeclampsia or premature rupture of your membranes, you'll have the highest level of care available at Scottsdale Shea. Qualified experts in maternal-fetal medicine are readily available to manage any complications you may experience and to ensure the safest possible delivery.
Level III neonatal intensive care unit
If your baby needs special care, Scottsdale Shea has a Level IIII neonatal intensive care unit (NICU) which provides advanced care for newborns of any gestational age. The 28-bed Bowe Special Care Nursery — NICU is staffed by: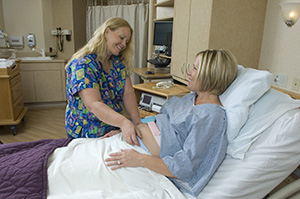 Neonatologists, physicians who take care of premature babies or sick infants
Neonatal nurse practitioners
Specially trained nurses and respiratory professionals who provide 24-hour in-hospital coverage
Advanced, specialized equipment and family-friendly policies allow you and your family to remain close to your newborn throughout his or her hospital stay.
Additional services
Whether you're a first-time mom or adding another child to your growing family, a little help can go a long way:
As natural as breastfeeding is, there may be times you need extra support and advice. The Center for Breastfeeding and Family Support can help.
Visit the Essential Touch Wellness Center and Boutique on the first floor. It features a variety of specialty items for pregnant women and new mothers including maternity wear and nursing bras, breast pumps and supplies, skin and body care products, infant clothing and accessories. The boutique is open to the public. You also can schedule healing therapies to reduce stress, improve health and create a foundation for well-being. You can even schedule a spa treatment for your room after you've delivered your baby.
Commemorate your baby's birth with a donation to the Scottsdale Shea Tree of Love. All donations directly support HonorHealth women's and children's services.
Virtual Tours - Scottsdale Shea Family Birthing Center