For some women, pregnancy and delivery can pose a risk to them and their baby. Older age, more than one fetus, certain medical conditions, or problems identified in the fetus may mean that you're having a high-risk pregnancy and need more advanced medical care.
Qualified experts in maternal-fetal medicine (another term for high-risk obstetrics) are readily available at Scottsdale Shea medical Center. These experts can consult on, or help manage, such complications as: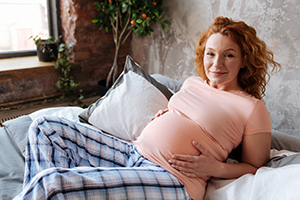 Premature labor
Preeclampsia
Genetic conditions
Prenatal diagnosis and therapy
Multiple gestations
Scottsdale Shea's High-Risk Obstetrical Unit is equipped and staffed to manage pregnancy complications, including those that may result in a premature birth. An array of trained specialists and team members, including high-risk pregnancy doctors, are available 24/7. This helps lower the mortality rate for infants and women with pregnancy complications.
Coordinated Care Center
Specialized care staff at the Coordinated Care Center at HonorHealth Scottsdale Shea Medical Center provide personalized care plans when either mother or baby is diagnosed with a complex medical situation.
The program offers patients these services:
A personalized care plan from the Coordinated Care Center nurse practitioner for you and your family after diagnosis. The plan includes recommendations from subspecialists and consulting physicians.
Navigation of prenatal consults and pregnancy care by a women's health nurse practitioner based on your care plan and diagnosis.
A private tour of Scottsdale Shea's labor and delivery and postpartum units and the Level III neonatal intensive care unit. The tour includes details about labor, postpartum and plans for mom, baby and the family. Tours of Valley children's hospitals are also available based on necessity.
A nurse's help with follow-up care and support services.
For more information about the program, please call 480-323-4555.