Level III NICU at Scottsdale Shea Medical Center
Scottsdale Shea Medical Center offers the northeast Valley's most fragile or critically ill newborns specialized care close to home. This neonatal ICU is the only one in the northeast Valley with a Level III designation, granted after a rigorous survey and evaluation from the Arizona Perinatal Trust.
As a Level III NICU, it provides advanced care for newborns of any gestational age. The facility has cared for babies as small as 1.01 pounds at 25 weeks gestation and as young as 24 weeks gestation at 1.5 pounds.
The 28-bed Level III NICU features state-of-the-art equipment and a team of experts who provide 24-hour in-hospital coverage for infants who require advanced care. The NICU is staffed by: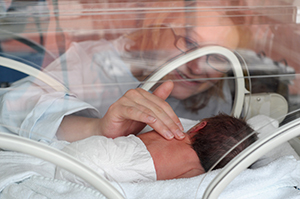 Neonatologists (physicians who care for premature or sick infants)
Neonatal nurse practitioners
Specially trained nurses
Specially trained respiratory professionals
The NICU's family-friendly policies encourage parents and families to remain close to their newborns.
Follow-up for NICU Graduates
Infants who have been in the NICU are more likely than others to have various developmental difficulties. Specially trained HonorHealth professionals can provide follow-up evaluations to identify any issues that a child may show at a very early age. This allows families to get early intervention and therapy services, if needed.
Once services are in place, ongoing visits with HonorHealth experts can monitor your child's progress and any identify any residual needs.
Surgeries performed at Scottsdale Shea
Specialists at Scottsdale Shea Medical Center perform a number of surgeries on premature infants or newborns including (but not limited to):
Congenital pulmonary airway malformations: This mass of abnormal fetal lung tissue is usually in one lung and can be treated surgically.
Esophageal atresia: Surgery can repair this birth defect of a malformed esophagus, which often results in the formation of two separate tubes.
Gastroschisis: This surgery fixes a birth defect in which a baby's intestines are found outside the body.
Intestinal atresias: An obstruction, blockage or narrowing in the small intestine can be treated surgically.
Intestinal ostomies: The surgeon creates an opening between a digestive or urinary organ and a body surface.
Omphalocele: When a baby is born with this, the infant's intestines, liver or other organs lie outside the body in a thin sac. Surgery to place the omphalocele inside the body usually occurs soon after birth.
Patent ductus arteriosus ligation: This surgery fixes abnormal blood flow between two major arteries connected to the heart.
Percutaneous endoscopic gastrostomy (PEG tube): The surgeon places a flexible feeding tube through the abdominal wall and into the stomach. The tube lets fluids, nutrition and medications go directly into the stomach when a baby is unable to breastfeed or bottlefeed.
Standard hernia repair: The surgeon fixes a bulge that occurs when an organ pushes through an opening in the muscle or tissue holding it in place.
Tracheotomy: The surgery creates an airway through an incision in the windpipe.
Transesophageal fistulas: Surgery can repair an abnormal channel called a fistula that connects the windpipe to the esophagus, the tube that leads from the mouth to the stomach.