The moment you first held your daughter stays clear in your mind always. And – unless you are a mother – it's hard to explain the feelings of amazement and trepidation, joy and exhaustion, and love with an exclamation point.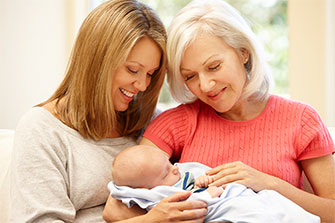 Now your daughter will be joining the Mommy Club, and in your role as a mother and grandmother, you can help your daughter – and work in some excellent grandmother time, too.
Think back to what was the most help for you as a new mother, and share. Ask your daughter what she needs before the baby is born, and after. Maternity services will help get her started with prenatal tours, how to choose a primary provider and find mommy support groups.
She'll feel educated from classes and books, but nothing replaces a hug and a gentle "Don't worry. You'll be a great mom. Everything is going to be OK."
Let her know there are many ways to be a great parent, and you are there to support her. Honor her parenting choices. Consider arranging meals for her family, or taking a night shift if possible.
Share your slip ups (let her know parents aren't perfect!) and also your most endearing moments from those early days. Dust off her baby book and talk about all the "firsts.''
And what would be the best gift of all when she arrives home with her new baby? New mothers need sleep. So enjoy every moment with your new grandchild, and let your daughter get some much deserved rest.