Internal medicine scholarly activity program
Purpose of the program
The purpose of the Internal Medicine Scholarly Activity Program is to support a scholarly environment and enable residents to pursue a career involving clinical research. The program gives residents a strong foundation in research, ensuring their effectiveness to evaluate the care of the patient in terms of best practices and their proficiency in critical appraisal of peer-reviewed literature. This will help residents develop a pattern of lifelong learning habits.
Scholarly activities of residents and faculty are documented and assessed regularly as part of the Internal Medicine Program evaluation and through the annual ACGME Faculty and Resident Survey.
Specific skills in research and scholarly activity taught in the curriculum
As a part of Internal Medicine's Scholarly Activity Program, a comprehensive curriculum has been designed to solidify research and scholarship with the residents. Specific skills in research and scholarly activity taught in the curriculum include:
The ability to critically appraise the literature and evidence-based guidelines.
Critical thinking skills, specifically in the areas of primary care research, evidence-based medicine reviews, continuous quality improvement initiatives, practice-based implementation research, patient-centered outcomes research, and comparative effectiveness research.
The ability to participate in clinical discussions, grand rounds, journal clubs, patient quality and safety conferences, and research conferences that promote a spirit of inquiry and scholarship.
The ability to design and conduct a scholarly project that has measurable objectives and fills a knowledge gap.
The ability to present scholarly activity findings and scientific abstracts at local, regional or national professional and scientific society meetings.
The ability to write scholarly activity findings in final report, abstract or manuscript form and, if applicable, submit for publication in peer-reviewed scientific journals.
Basic understanding of research methodology as it pertains to healthcare research.
Basic understanding of biostatistics and analytical and evaluation techniques.
Basic knowledge of human subject protections (through CITI training) and institutional review board processes.
This executive summary is organized into three parts. In Part I, scholarly activity processes and structures are identified and described. Part II provides details regarding resources in place to support scholarly research activities. Part III presents a list of recent faculty and resident activities.
Scholarly Activity Report – Internal Medicine Residency Program
Examples of research and scholarly activity presentations
Example 1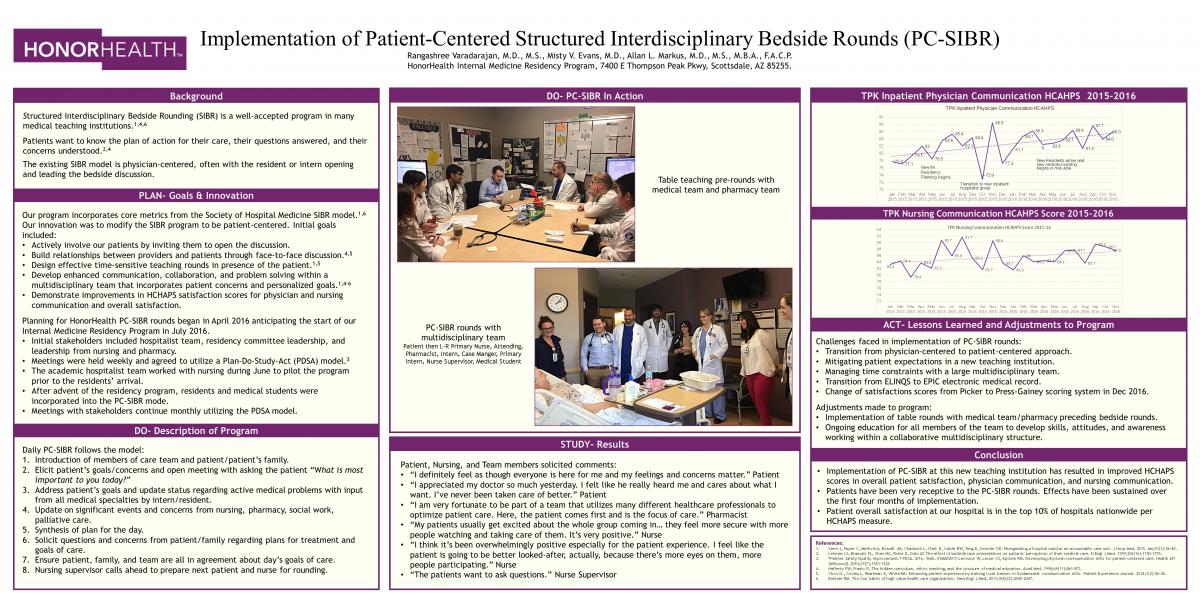 "Implementation of Patient-Centered Structured Interdisciplinary Bedside Rounds (PC-SIBR)"– Rangashree Varadarajan, MD at the Academic Internal Medicine Week (AIMC) Conference 2017
Example 2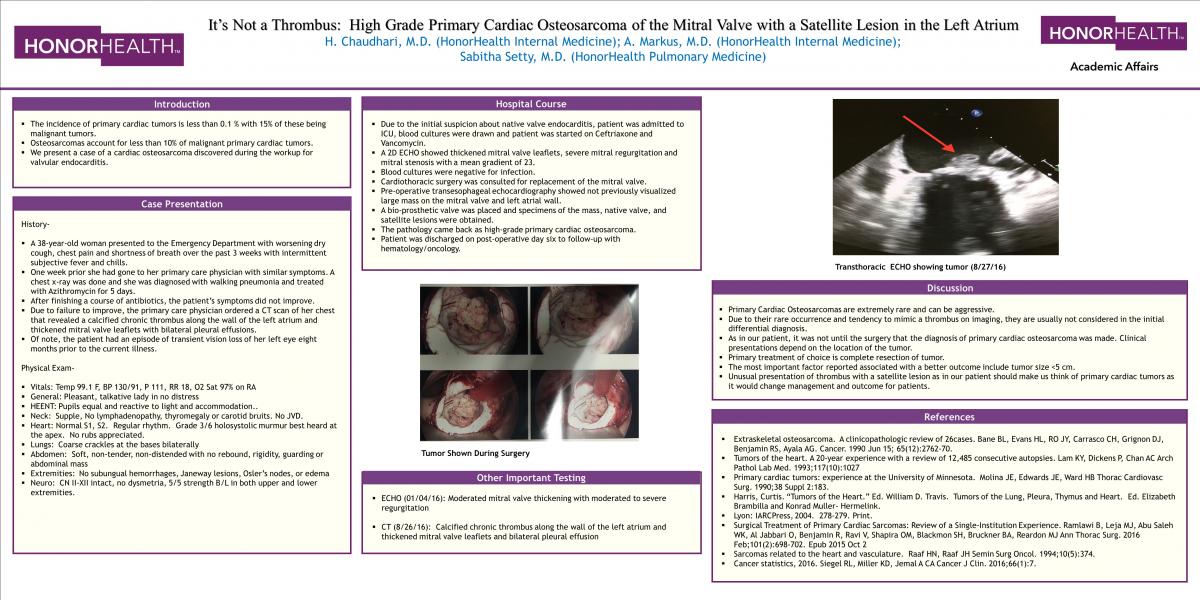 "It's Not a Thrombus: High Grade Primary Cardiac Osteosarcoma of the Mitral Valve with a Satellite" Lesion in the Left Atrium" – Harshad Chaudhari, MD at the American College of Physicians (ACP) Conference 2016
Example 3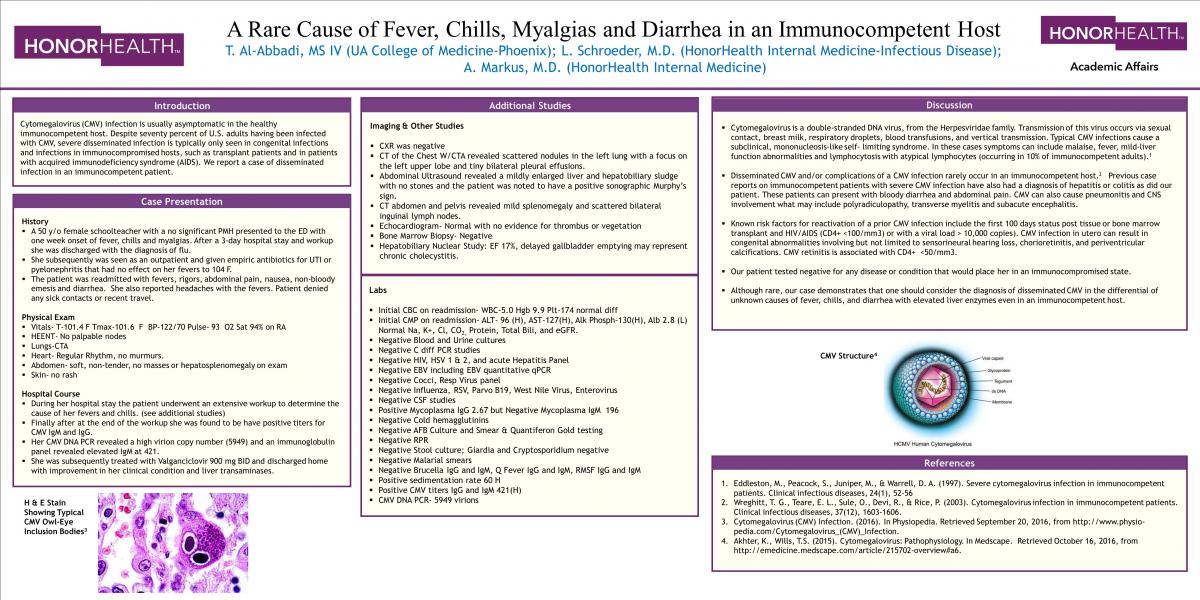 "A Rare Cause of Fever, Chills, Myalgias and Diarrhea in an Immunocompetent Host" – Tabarik Ahmad, MS IV at the American College of Physicians (ACP) Conference 2016
Example 4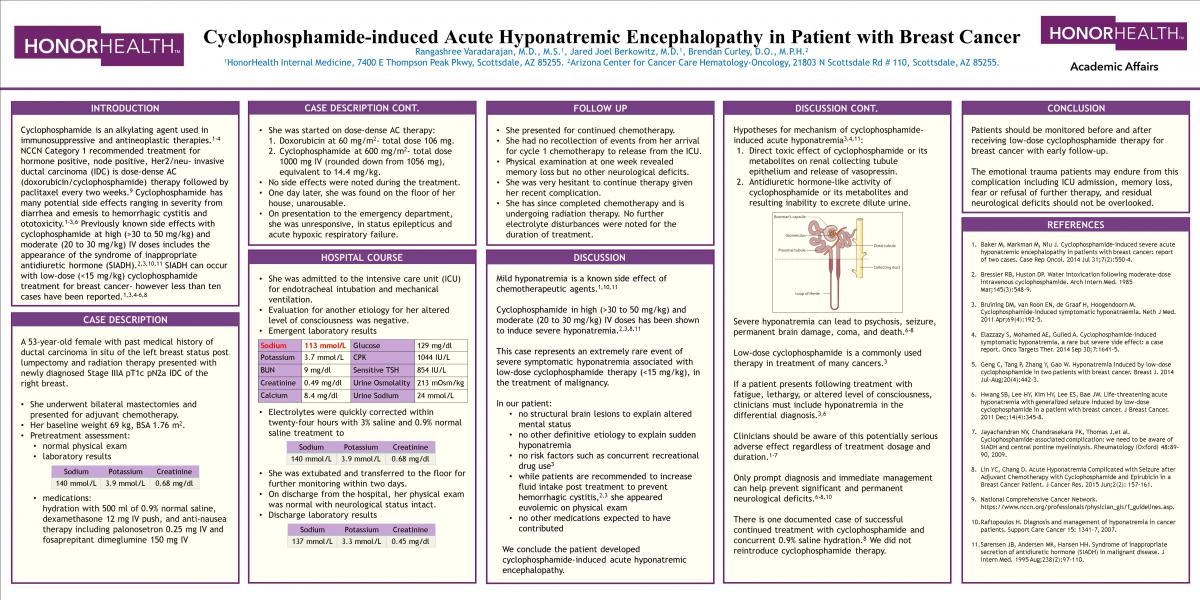 "Cyclophosphamide-induced Acute Hyponatremic Encephalopathy in Patient with Breast Cancer" – Rangashree Varadarajan, MD at the American College of Physicians (ACP) Conference 2016