HonorHealth Internal Medicine Residency Program benefits
See our residency program benefits (PDF).
The HonorHealth Internal Medicine Residency Program offers:
An innovative resident conference schedule that includes conferences on work-life balance, the art of medicine, medical debates and the practical business aspects of medicine you'll need to be successful after graduation. This includes a partnership with ASU College of Health Solutions providing a Certificate in Healthcare Delivery for resident participation.
More personalized faculty mentoring of our resident physicians, since our program is smaller than other residency programs.
We're based in north Scottsdale, which could allow for an easy transition to a successful practice with HonorHealth Medical Group or other very successful area practices upon graduation or after a later fellowship.
Very competitive salary and benefits for you and your family.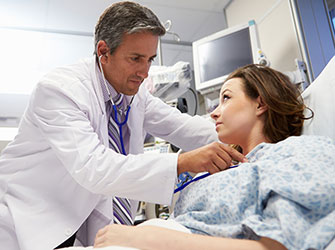 In addition, the program offers:
Featured resident retreats on leadership, education, and career development.
A favorable resident physician call schedule designed to maximize learning over service.
NEJM Knowledge + Board and Study Prep for all residents, Yale Ambulatory Curriculum, online access to UpToDate™, full text articles, textbooks and an on-site medical librarian who participates in educational conferences.
Ambulatory/inpatient model that allows resident flexibility with scheduling while allowing continuity of care in the ambulatory settings.
Morning reports
Some examples of morning report presentations by our residents are:
Retropharyngeal Cellulitis
SJS
Hypersensitivity Pneumonitis
Lung Carcinoid
Polyglandular Autoimmune Disease type 1
LCHADD – Vertebra/Artery Dissection
New UC with enteropathic monoarthritis
Pasteurella bacteremia
Pseudomonal diarrhea
GPA
ADPKD
HIV encephalitis late presentation
HonorHealth Internal Medicine Residency Program team activities