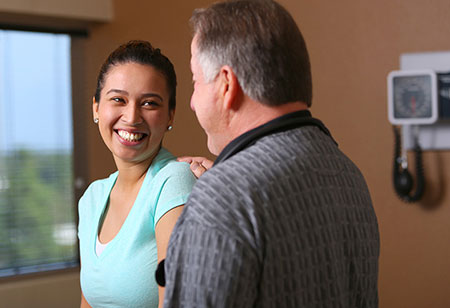 Serving those who live, work and play in Tempe
Tempe, Arizona, is many things: home to highly regarded academic institutions; a hub of medical, environmental and aerospace research; headquarters for major corporations; and a housing mecca for more than 166,000 residents.
HonorHealth helps serve the diverse healthcare needs of those who live, work and play in Tempe with three medical practices:
The primary care physicians and family doctors at each Tempe location share a commitment to making healthy personal. To do so, they tailor their care and services to meet your needs. They understand the healthcare needs through all phases of life, from families with newborn and school-age children, to college students, working professionals, empty nesters and retirees.
Are you looking for a family doctor to administer childhood vaccinations, provide well-child exams, quickly diagnose and treat cold and flu symptoms, or conduct physicals for organized youth sports? Do you need well-woman services or advice on birth control options that fit your lifestyle? Could you benefit from having a nearby primary care physician help manage a chronic condition like diabetes or high blood pressure? Do you want a familiar atmosphere where you can get routine dermatology services or see a doctor when you're not feeling well?
HonorHealth Medical Group's locations in Tempe do all of this and so much more while building trusting patient-provider relationships.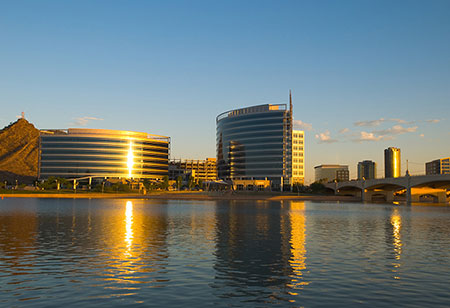 HonorHealth Medical Group - Primary Care - Marina Heights
Just off Loop 202 between Rural Road and Mill Ave., this practice is located near Sun Devil Stadium and Tempe Town Lake.
Patient satisfaction is the main goal of the doctor, nurse practitioners and staff at this primary care practice in Tempe. That means when you come in for a wellness exam or because of an illness or an accident, you'll be treated with respect and kindness.
The board-certified providers, who include a physician and two nurse practitioners (NPs), will listen carefully and explain any procedures or treatment that they recommend. The physician is certified by the American Board of Family Medicine, and the NPs are certified by the American Academy of Nurse Practitioners.
Both NPs use a holistic approach to treat the entire person, not just a disease, and advocate disease prevention. One has a special interest in women's health, including birth control and hormones, and the other has a special interest in cancer and hematologic (blood) disorders.
The practice accepts same-day appointments and welcomes walk-ins. Cash pay is available. See the Patient Resources page for forms, information about appointments, cancellations, billing and more.
HonorHealth Medical Group - Primary Care - West Tempe
Located near the U.S. 60 and Interstate 10 freeways at the intersection of Priest Drive and Broadway Road, this practice boasts same-day and next-day appointments.
Situated in an industrial plaza with ample parking, the office is adjacent to Holdeman Elementary School, the expansive Holdeman Neighborhood and Gilliland single-family home communities, and the Parkside Apartments. The town of Guadalupe, which has a large Spanish-speaking population, is also nearby. Spanish-speaking healthcare professionals are on staff to ensure clear communication.
The HonorHealth primary care office in west Tempe serves patients from birth through end of life. One distinguishing service is its focus on women's health and, more specifically, birth control. From intrauterine devices and implantable birth control methods, to birth control pills and shots, they offer an array of contraceptive options.
Providers maintain a strong community presence, participating in health screening events, fairs and festivals, including those hosted by the town of Guadalupe. To serve busy working professionals, they also conduct on-site blood pressure checks, nutrition counseling and more for local businesses such as the nearby Home Depot Call Center.
HonorHealth Medical Group - Primary Care - South Tempe
This office at the southwest corner of McClintock Drive and Warner Road serves patients 12 and up. The practice is nestled in a primarily residential area. Nearby neighborhoods include Alta Mira, Mission Ridge, Corona Del Sol, Estate La Colina and Warner Estates, to name a few.
While serving men, women and children, providers focus on a range of women's health issues, including those related to reproduction, menopause and diseases and conditions affecting the female organs.
The south Tempe location is one of two practices in the HonorHealth Medical Group to use a patient-centered care model in which all aspects of the patient visit — including registration, medical history review, exams and procedures — are conducted in one private patient room.
To find an HonorHealth primary care physician or family doctor in Tempe, call 623-580-5800 or find a doctor in Tempe.