Cancer Transplant Institute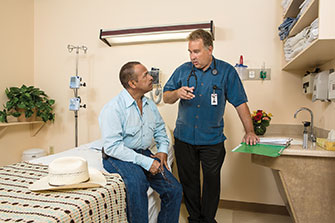 Depending on the type of blood cancer you have and the stage it's in, you may need a peripheral stem cell transplant (commonly known as a bone marrow transplant).
The HonorHealth Cancer Transplant Institute's team of experts provides comprehensive, personalized care for patients with blood cancers such as leukemia, lymphoma and multiple myeloma. From initial consultation services to follow-up care after a transplant, the HonorHealth Cancer Transplant Institute provides complete care through the entire spectrum of a patient's transplant process.
Transplants are available in both an outpatient and an inpatient setting. Whether a patient is treated primarily as an inpatient or an outpatient depends on the type of transplant, the type of cancer and the patient's and family's needs.
Peripheral Stem Cell Transplant
This procedure replaces damaged or destroyed bone marrow with healthy bone marrow stem cells. Bone marrow is the soft, fatty tissue inside your bones, and stem cells are immature cells in the bone marrow that give rise to all of your blood cells.
There are two types of transplants — autologous, in which your own cells are used, and allogeneic, in which a donor's cells are required. In fact, for the majority of the autologous transplants, cells collected from a patient's blood are used instead of bone marrow.
Learn more about autologous and allogeneic transplants.
Which Transplant is Right for You?
Because autologous and allogeneic transplants are very different, they also carry different risks and complications. The choice of which form of transplant you may require is often based on the type of cancer that you have, how you have responded to it, and your general health. During your initial visit, your physician will discuss with you which transplant is more appropriate as well as the risks and benefits to each approach.
Disease Types Commonly Treated with a Transplant:
Leukemias (acute and chronic).
Non Hodgkin's lymphoma.
Hodgkin's disease.
Multiple myeloma.
Aplastic anemia.
Myelodysplastic disorders.
Myelofibrosis.
Certain solid tumors (germ cell, neuroblastoma).
FACT Accreditation
We are accredited by FACT, the Foundation for the Accreditation of Cellular Therapy, for both autologous and allogeneic adult transplants. We're also an accredited collection facility and processing laboratory, so you can be sure you'll be receiving the highest quality of care at the HonorHealth Cancer Transplant Institute.
FACT is the only accrediting organization that addresses all quality aspects of cellular therapy treatments: clinical care, donor management, cell collection, cell processing, cell storage and banking, cell transportation, cell administration, cell selection, and cell release. FACT-accredited programs have met rigorous standards, as defined by the leading experts in the field of cellular therapy.
To learn more about FACT, visit www.factwebsite.org.
For additional information about peripheral stem cell transplants available through the HonorHealth Cancer Transplant Institute, please contact the transplant team at 480-323-1573.