Community Bridges/HonorHealth Integrated Addiction Medicine Fellowship
Beginning in summer/fall 2018, the only addiction medicine fellowship program in Arizona accredited by the Addiction Medicine Foundation will accept its first class. This program is a partnership between Community Bridges, Inc. and the HonorHealth Family Medicine Residency Program.
Applications will be accepted in the spring 2018.
Learn more about our Addiction Medicine Fellowship.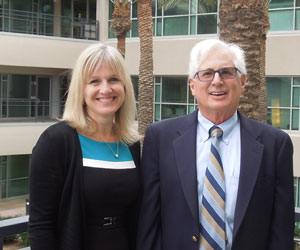 Clinical training sites
Community Bridges, Inc. (CBI) Central City Addiction and Recovery Center (CCARC)
HonorHealth Scottsdale Osborn Medical Center
HonorHealth John C. Lincoln Medical Center
HonorHealth Scottsdale Thompson Peak Medical Center
Community Bridges, Inc. (CBI) Cactus Integrated Care Center (CICC)
Community Bridges, Inc. (CBI) Community Psychiatric Emergency Center (CPEC)
Clinical rotations
Outpatient Addiction Medicine and Medication Assisted Treatment
Inpatient Medical Detox
Elective rotations
Women's and Children's Addiction Treatment
Addiction Free Pain Management
CBI Projects for Assistance in Transition from Homelessness (PATH)
Leadership
Michel Sucher, MD
Community Bridges/HonorHealth Integrated Addiction
Medicine Fellowship Director
Carol Babineux
Program Coordinator
Email