Community Bridges/HonorHealth Integrated Addiction Medicine Fellowship
As the first addiction medicine fellowship program in Arizona and accredited by ACGME, this program is a partnership between Community Bridges, Inc. and HonorHealth. The HonorHealth Family Medicine Residency Program is the sponsor of this fellowship program.
The program provides training in the evaluation, treatment, research, and teaching of substance use disorders. The program offers training at a variety of sites including community based clinics, hospital consults, as well as specialty rotations in adolescent addictions and Addiction free Pain management. Our experienced faculty includes board-certified and board-eligible addiction physicians and addiction medicine specialists well known within the addiction medicine community.
Clinical training sites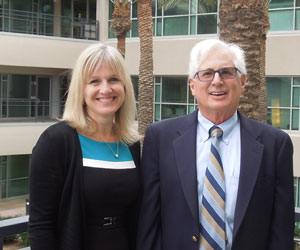 Community Bridges, Inc. (CBI) Central City Addiction and Recovery Center (CCARC)
HonorHealth Scottsdale Osborn Medical Center
HonorHealth John C. Lincoln Medical Center
HonorHealth Scottsdale Thompson Peak Medical Center
Community Bridges, Inc. (CBI) Cactus Integrated Care Center (CICC)
Community Bridges, Inc. (CBI) Community Psychiatric Emergency Center (CPEC)
Center for Hope
Community Bridges Inc. Cactus
Core rotations
Outpatient Addiction Medicine and Medication Assisted Treatment
Inpatient Medical Detox
Hospital consult
Inpatient Withdrawal Management
Emergency Psychiatry
Community Chemical Dependency Treatment
Elective rotations
Women's and Children's Addiction Treatment
Addiction Free Pain Management
CBI Projects for Assistance in Transition from Homelessness (PATH)
Forensic Ambulatory Community Psychiatry
Physician Health
Leadership
Michel Sucher, MD
Community Bridges/HonorHealth Integrated Addiction
Medicine Fellowship Director
Carol Babineux
Program Coordinator
Email