In the past, your medical record was a bit of a mystery. Even though it was your information, you'd need to submit a request in order to access it. HonorHealth's MyChart fixed that problem by giving you access to your information online. Now, HonorHealth takes that one step further by providing MyChart Bedside so you have access to your health information when you're in the hospital.
MyChart Bedside is available on hospital-provided (and sterilized) iPads located in the patient's room. The program launched in August 2018 at Scottsdale Osborn, Scottsdale Shea and Scottsdale Thompson Peak medical centers and will roll out to all HonorHealth hospitals in 2019.
"MyChart Bedside gives you a clear understanding of what's happening during your hospital stay," says Sarah Snell, MD, chief experience officer with HonorHealth. "With this new application, we are putting the information in your hands and inviting you to become an active member of your care team."
When you're in the hospital, MyChart Bedside gives you access to:
View your lab and test results, when made available by your doctor
Review vital signs, such as your blood pressure, heart rate and temperature
See the medications your physician has prescribed for you
Submit non-urgent requests, such as changing your room temperature or asking to have trash removed
Watch educational videos about your health conditions
Request spiritual care/support
See your upcoming tests and procedures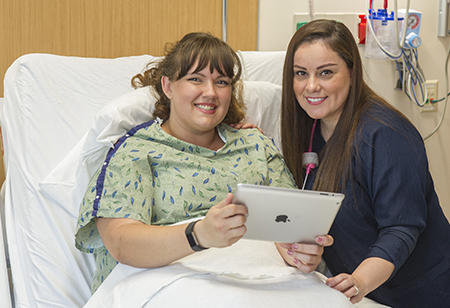 In addition, you'll have a list of your care team members and an explanation of their role. And, should you choose, you can sign up for a MyChart account so all your HonorHealth information will be available in one place, accessible to you 24/7 after you have left the hospital.
"With MyChart Bedside, you'll be able to view your medical information as it accumulates while you're in the hospital," says Dr. Snell. "Much of this information used to be on a whiteboard in your hospital room. But MyChart Bedside allows for much greater depth to the information provided, as well as additional privacy."
HonorHealth's Patient & Family Advocacy Council consulted on the development of MyChart Bedside, commenting on prototypes along the way.
"The excitement and enthusiasm of these council members really struck me," says Dr. Snell. "One of them pulled me aside and said, 'You do realize what a big deal this is, right?' I'm thrilled that we're empowering patients to take a more active role in their health care. We've been using technology to communicate for some time and this is a logical extension for us to provide an even greater level of service."