Heart disease is the No. 1 killer of Americans. That simple fact means that if you have heart and/or vascular disease — or if you're at risk for them — consider HonorHealth as your partner to better health. Why? Because the healthcare system features:
Highly qualified and experienced heart and vascular doctors who work as a team. Committed not only to heart disease diagnosis and treatment, they also target heart disease prevention.
Individualized treatment plans.
An expert, compassionate staff.
The latest technology and diagnostic testing.
Specialists who take an active role in heart and vascular research that could help not only you, but also your family and friends in the future.
Post-acute care that includes cardiac rehabilitation.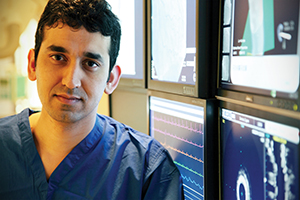 HonorHealth's five medical centers in Phoenix and Scottsdale follow the highest standards for diagnostic heart and vascular tests, cardiac catheterization, post-acute care, recovery and cardiac rehabilitation. The health system's specialists range from highly trained and experienced cardiologists and interventional cardiologists to cardiovascular and vascular surgeons to radiologists.
If you need surgery, you should know that the best outcomes occur at hospitals where heart and vascular specialists perform a high number of surgical procedures. This is the case at three HonorHealth hospitals — Scottsdale Shea, Deer Valley and John C. Lincoln medical centers.
Each facility not only has floors dedicated to cardiac and vascular care but also highly trained specialists, nurses and technologists on staff to care for you.
HonorHealth Heart and Vascular Institute
Another reason to turn to HonorHealth for your cardiac care? The HonorHealth Heart and Vascular Institute. Composed of more than 80 carefully selected cardiovascular specialists, the institute's experts are known for their:
Experience, reputation and dedication to personalized care.
Attention to best practice. This means they focus on the treatments and therapies proven to work best.
Teamwork to provide the best care for you, the patient. Because the five HonorHealth hospitals are in the central and northeast Valley, geography supports the institute's emphasis on teamwork.
Willingness to work closely to manage day-to-day operations for the greatest benefit of the patient.
Standardized reports that ease data interpretation and decision making.
Dedication to meeting door-to-balloon time — a national quality metric designed to limit heart damage when you suffer a heart attack — 95 percent of the time. Patients need to receive cardiac catheterization to open a blocked artery in 90 minutes or less.
Commitment to quickly seeing patients with chest pain.
Commitment to meeting quality standards.
Commitment to lowering hospital readmissions.
Whether it's preventing, diagnosing or treating heart and vascular disease, know that HonorHealth is dedicated to helping you.