When you're pregnant, you want to be pampered. You want to know that the staff members caring for you recognize that even the smallest details can make a big difference in your maternity experience.
Birthing Center Facility Tours
Tours of both of our maternity facilities at Scottsdale Shea and Scottsdale Osborn Medical Centers are available to expectant mothers and their families. Schedule a tour to familiarize yourself with our labor and delivery rooms, post-natal rooms and surgery areas. You also can review our visitor guidelines and see many of our amenities. Sign up for a tour online at your convenience or call 623-580-5800.
Simplified Registration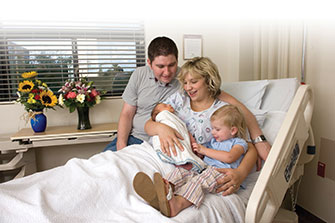 We've simplified preparing for your hospital stay as much as possible. For your convenience, you can pre-register by downloading the required pre-registration form (PDF). To get started, email your completed pre-registration form and a clear front and back copy of your insurance card(s) to our OB Admitting team at one of the two locations below:
After your pre-registration is received, you'll get an email confirmation response.
After we receive your pre-registration, a Registration Representative will contact you to finalize your pre-registration and go over information provided by your insurance company. It's a good idea to review your insurance coverage and benefit information so that you understand what your plan coverage includes. In addition, it's important to contact your insurance company for direction on how to add your baby to your insurance policy as quickly as possible after you deliver.
For questions or additional ways to pre-register, contact the Shea OB Admitting Department at 480-323-3331 or the Osborn OB Admitting Department at 480-882-4018.
Open Visiting Hours
As part of our family-centered care model, we encourage your newborn's family and siblings to visit at any time. Others may visit at the mother's discretion. During the winter months, it's common for individuals to be more susceptible to Respiratory Syncytial Virus (RSV) and other respiratory illnesses. During RSV season, we do not allow visits from children under 12 years old and who are unrelated to the new baby. Healthy siblings, however, are allowed to visit the maternity units.
Essential Touch Wellness Center and Boutique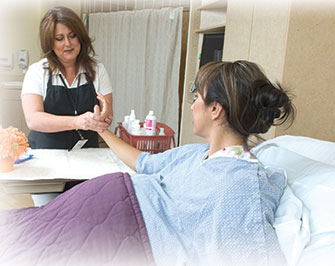 The Essential Touch Wellness Center is in the south entrance lobby of Scottsdale Shea Medical Center at 9003 E. Shea Blvd. The Center is designed to comfort patients, family members, visitors and other special guests with healing therapies that reduce stress, improve health and create a foundation for well-being. Patients can enjoy Essential Touch's spa-like treatments and services in their rooms.
The Essential Touch Boutique offers numerous specialty items for pregnant women and new mothers, including nursing bras, breastfeeding supplies, breast pump rentals, skin care products and infant accessories.
To arrange for spa services or to reserve a breast pump rental, call 480-323-3655.